On Mindanao and Palawan Islands – and many little islands in between – live hundreds of thousands of people, hidden in jungles and mountains. They still have not heard the freeing message of the Savior Jesus Christ. God has graciously provided Ethnos360 Aviation with a Robinson R66 helicopter for this southern island region of the Philippines. But receiving the helicopter is just step one. A lot remains to be done: final outfitting, shipping, customs fees, approval by Philippine aviation authorities, advanced training and more. You can help position the R66 for unprecedented ministry in the Philippines.
Church Planting Ministry
On Mindanao alone, hundreds of thousands of people in fourteen people groups still need to hear the Gospel. Ethnos360 has already trained national missionaries from six of these groups, and more are in the process. To reach the rest of their people, they will need the helicopter.
Take the Manobo group, for example. Just now learning the gospel message, they are already beginning to catch the urgency and importance of the message they are hearing. They have a growing desire to help their relatives deep in the mountains. But even for the hardy Manobo, born and raised in the jungle, the thought of routinely making the long, treacherous hike to these villages for outreach is daunting.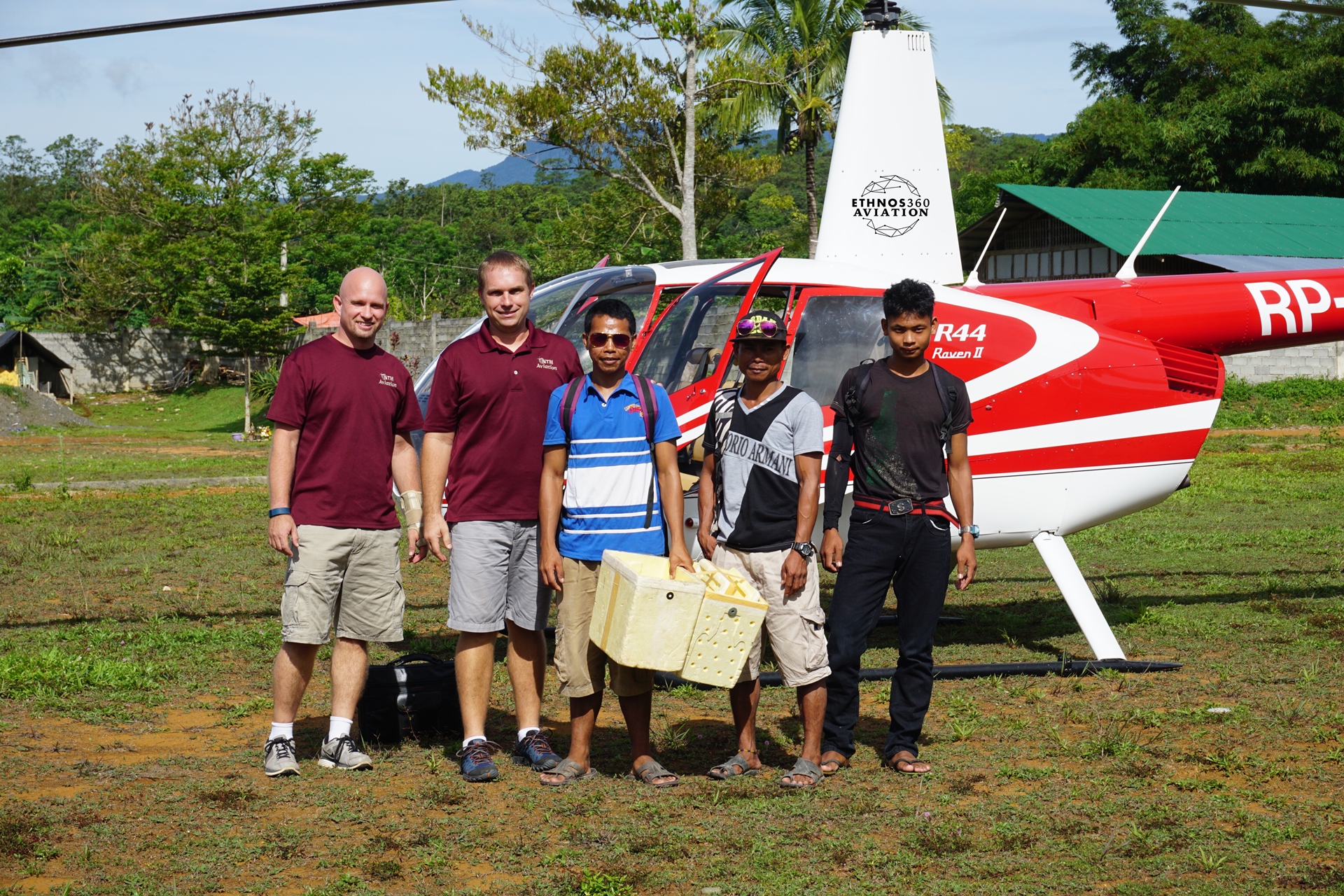 Located far into the rugged mountains of Central Mindanao, these villages are a mere five- to ten-minute flight from the lowlands but are isolated and nearly impossible to reach on foot. Airstrips are out of the question. Trails are non-existent, and the terrain is so steep that missionaries -- themselves often Filipino or tribal people -- might hike for an entire day, cutting their way through jungle and using roots and vines for hand-holds to make their way up the mountains.
The R66 helicopter will enable not only the missionaries but also the Manobo believers to reach farther into the mountains, bringing the gospel to others who currently have no access to the truth. Combined with Ethnos360 Aviation's affordable flight service, the R66 will sustain trained and skilled translators and teachers in these villages until thriving churches can stand on their own and reach out to others.
Disaster Relief Ministry
While our primary focus is supporting church planting missionaries, Ethnos360 Aviation stands ready to respond in disaster and crisis situations as well.
For example, following Typhoon Haiyan in November 2013, we were able to bring food, shelter and other necessities to thousands who had lost their homes and livelihoods and were cut off from other sources of aid. We have also been involved in needs assessments following Typhoon Ruby, as well as in bringing doctors, Red Cross nurses and thousands of pounds of medication to victims of a cholera epidemic in an isolated community of the Philippines. More recently we have flown food to mountain villages inaccessible by road after Typhoon Koppu. Because of the specialized aircraft that we fly, we are uniquely positioned to assist in crises such as these. With its payload capacity, range, and use of Jet-A fuel, the Robinson R66 helicopter will dramatically improve our ability to respond and serve the people of the Philippines effectively when disaster strikes.