By Ethnos360 Aviation helicopter pilot's wife Julie Diedrich
While tidying up, I ran across this thank you card made by one of the missionary kids that we fly for, back before COVID shut down our flying to the "M" territory. It occurred to me that this "thank you" should go to everyone who is part of enabling the helicopter to be here serving the tribal missionaries.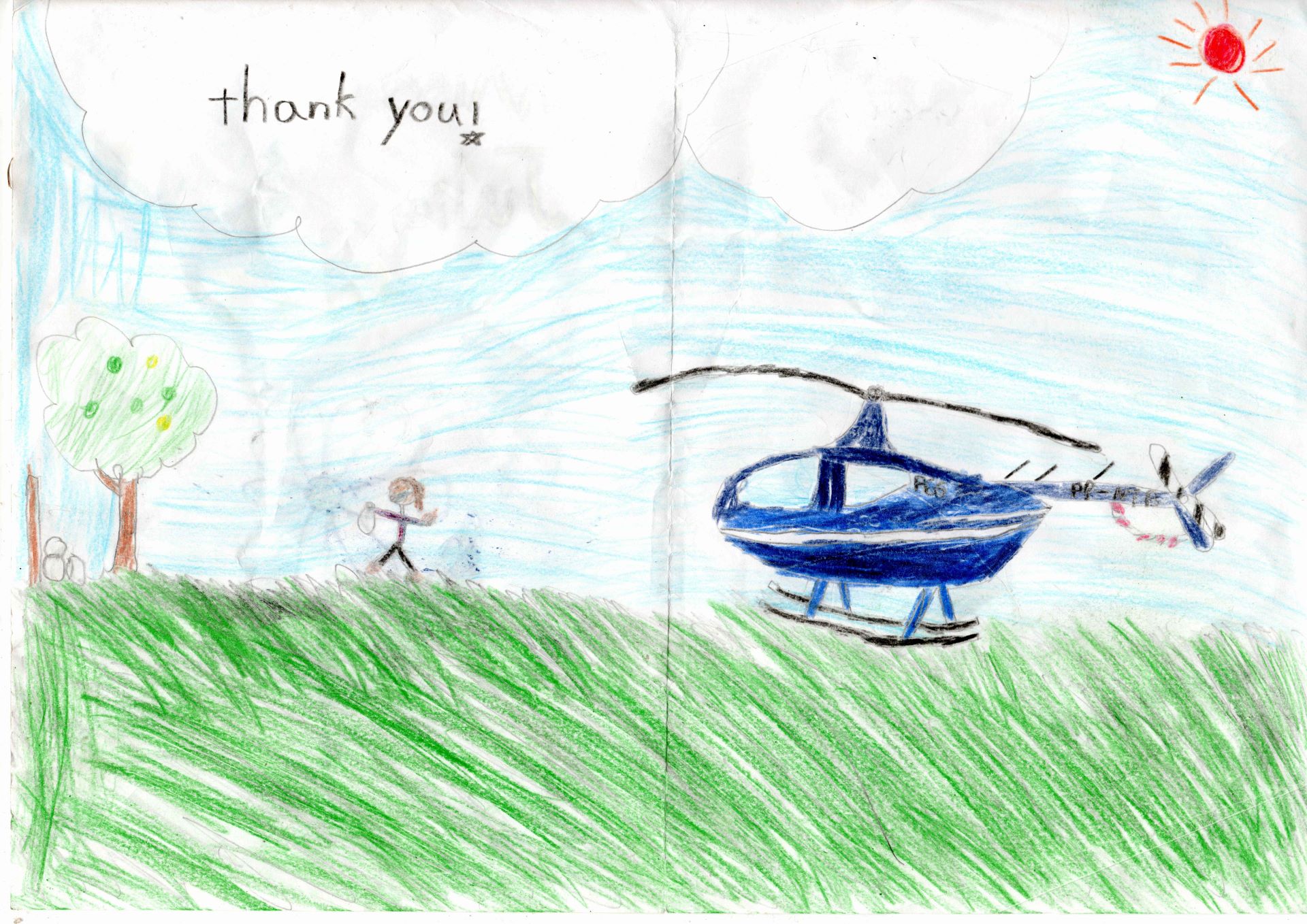 This drawing records one of the last flights before all the missionaries had to be evacuated due to COVID — and before they knew that all the supplies we had just flown in would have to be given away to indigenous friends because missionaries had to suddenly leave.
In the drawing, you can see a pile of packages under a tree beside a fence post. The fence surrounds the house of one of the team members. That's how close the helicopter can get — practically on the doorstep! Before the arrival of the helicopter, the fixed wing plane would drop off cargo at a nearby airstrip. Then load after load, the supplies would be carried down a steep and slippery riverbank, loaded into a small boat for a short trip, unloaded, and carried up another steep and slippery riverbank. A lot of work for groceries!
As I looked at the drawing, I remembered my husband, Jeremiah, telling me how these missionary kids squealed with excitement over the arrival of the special food that came in the helicopter. What excited them was not chocolate, nor pizza or any treats, but tomatoes and lettuce. This family was so used to living without fresh vegetables that the kids were extremely excited about getting to have salad for supper that night!
As of this writing, the missionaries are still barred from returning to the "M" location. But two things have been encouraging and inspiring with that situation. One is that the missionaries, rather than giving up in discouragement, never missed a beat in continuing ministry from temporary housing in town. They are searching out and finding countless opportunities to talk with and assist "M" people who hike out to town. They communicate with them by cell phone. They even make progress in language learning by listening over and over to Whatsapp voice messages sent by "M" friends.
The other encouraging development is that the few Christians left behind in "M" territory are grasping the reality that they are Christ's representatives in their communities. They can't depend on the missionaries for their spiritual lives. God is using this challenging situation to grow their faith like never before.
Every donation to Missionary Flight Sponsorship makes it possible for missionary families to have affordable flight to live in these very isolated places that need God's Word in their language. They, and the people they serve, are thankful to everyone who gives! Julie concludes, "I hope you are able to take the 'thank you' to heart, and remember to pray for the people groups of northern Brazil."