He wasn't sure he could get it just right, but Jim Ferguson crossed one ankle over the other and rested his arm on NTM Aviation's newest arrival, an R66 helicopter. Beside him, leaning on a cane, stood Forest Estelle.
The click of the camera captured more than just a photo. It encapsulated God's incredible grace and mercy over the last 48 years.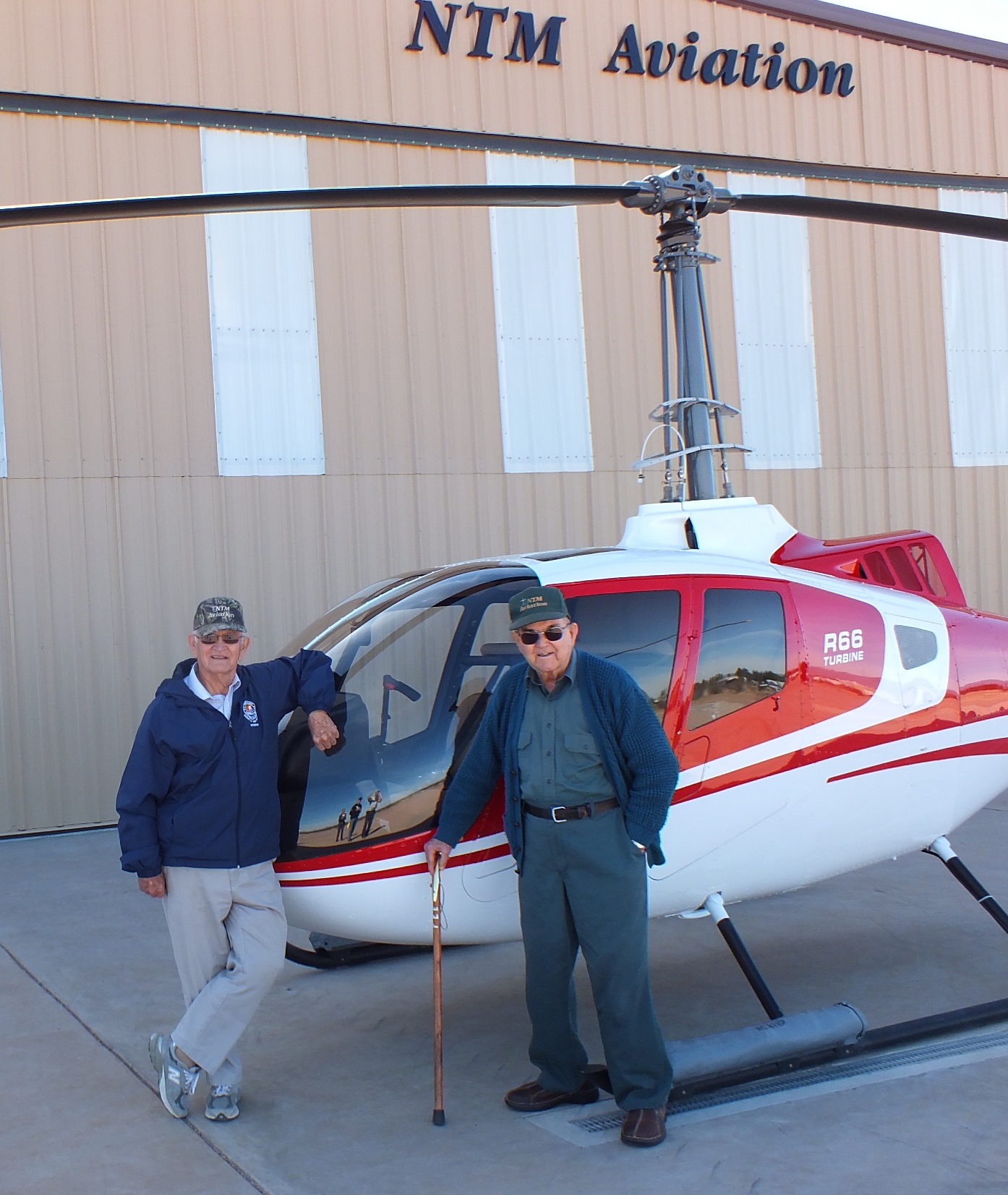 Jim Ferguson on the left and Forest Estelle on the right
In 1969, NTM asked Jim and Forest to take on the crucial role of standardizing NTM's flight service, already serving missionaries in various countries. They formed "Tribal Air/ Communications," based in Jersey Shore, PA. The older photo shows them posing with their sole aircraft – a 1953 Piper Pacer. Behind them stands the hangar – a simple pole barn built with rough-hewn trees and a metal roof. They cut a training airstrip out of a cornfield on the property.
Jim and Forest, though visionaries in many ways, probably never imagined what NTM Aviation would grow to be. It has served missionaries in 12 countries using more than a score of different aircraft. And in that time, thousands of souls have heard of the Creator and His message of salvation.
Now instead of Super Cubs and Cessna 185's, God has provided state-of-the-art Kodiaks that carry more cargo and travel further into unreached areas. He's blessed us with highly flexible R66 helicopters that surmount the impossibilities of building airstrips and reaching nomadic people groups. And He's sent generous donors to support affordable flight, making air service available to all missionaries – western, national, and indigenous – whether or not they can afford it. These amazing advances are only possible as the Body of Christ joins together in reaching the world for Christ.
That means you! Your involvement is helping NTM Aviation flex with changing needs. The right equipment operated at the right price makes NTM Aviation a relevant and viable tool to reach people still needing to hear God's Word taught clearly. You can help get this particular helicopter to the Philippines soon to replace the R44 that is almost out of flight time by donating to the R66 Helicopter fund. Thank you for your partnership!