"It's bittersweet," said Dave Mueller, his head slightly bowed. Tears weren't far away. He was thinking of his little grandkids halfway around the world, living among the Maliyali people of Papua New Guinea.
In February, Dave and his wife, Terri, visited Ethnos360 Aviation in McNeal, AZ, doing some volunteer work and seeing the ground level of aviation service to remote areas. It's close to their hearts. They realize that their grandkids, along with their son and daughter-in-law, Nathan and Rachel Mueller, couldn't live in such a difficult area as Maliyali without the life link of aviation to supply everything they need.
Dave's and Terri's hearts found comfort as they mingled with folks at our aviation main office. "We were so glad to meet a guy here in AZ who had flown to that tribe, who had flown stuff for our kids. He'd had contact with our family! It's a connection." For a whisper of a moment, it brought the grandkids close.
The Muellers are no strangers to ministry. Their daughter and son-in-law work in an orphanage in Mexico. And Nathan and Rachel previously worked as house parents in a group home for teens — until their hearts were stirred for people groups who had no prospect of hearing God's story.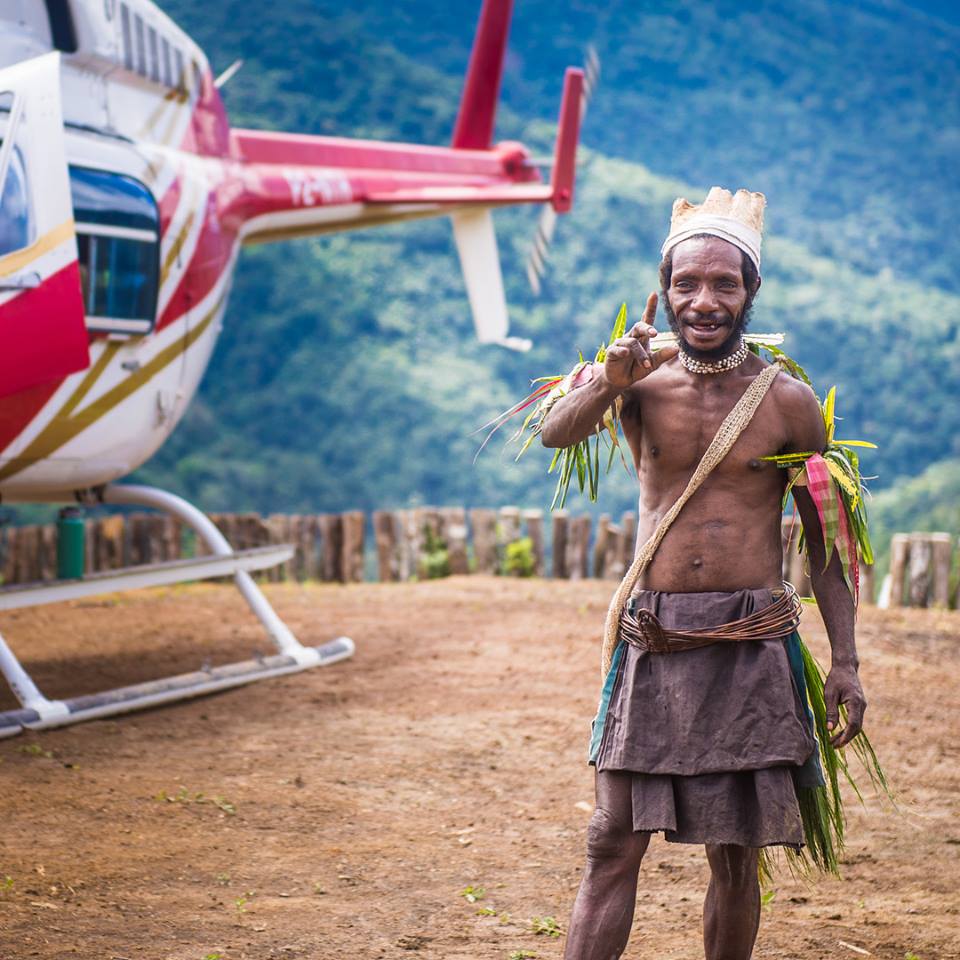 "A Maliyali man named Rambo kept sending letters and messages to Ethnos360 asking, 'When can we get a missionary?'" relates Dave. Now, Rambo is Nathan's right-hand man, helping him with language. Soon, with an alphabet established, the missionary team will start teaching the people to read and write, an essential step before presenting God's Word.
But one thing is clear. "Without aviation," Dave says, "it wouldn't happen." There is no feasible way into Maliyali except for helicopter. Though Nathan has hiked into the village, Dave says, it's "too dangerous of a hike for women and children."
Once the helicopter has shuttled Nathan and family into the village, aviation continues as their supply line. And it's the safety net when emergencies come up.
"Ethnos360 cares about their missionaries. They are not reckless," says Dave. Nathan told him that when another missionary had a health emergency, the Ethnos360 Aviation helicopter medevac'd her. "The doctor and his staff lined up to help her. An amazing team took care of her, doing paperwork, comforting her, even handing her cash before the flight to Australia." It comforts a grandpa's heart to know they'd do the same for his kids!
It will also comfort their hearts when, later this year, Dave and Terri will travel to Papua New Guinea. They'll visit Maliyali, flying first by Kodiak airplane to the nearest airstrip, then shuttling by helicopter into the village. They'll relish time with the grandkids, enjoying jungle adventures together for a few all-too-short days.
For the most part, though, Dave and Terri will try to be content with precious moments when Nathan can eke out enough cell connection to send them a text from the village. Or when the family comes out for a break at the missionary center and can make video calls.
"We rest in the fact that those tribal guys like Rambo will say to us in Heaven, 'Thank you, Grandpa and Grandma, that because your kids and grandkids came to us, we could hear the gospel."
That will make it all worthwhile.
Families of church planting teams are grateful for those who help make flights feasible and affordable for their kids and grandkids as they follow God's calling to reach a remote people group with the gospel. And tribal guys like Rambo will be eternally grateful too when they finally hear the Good News in their heart language!