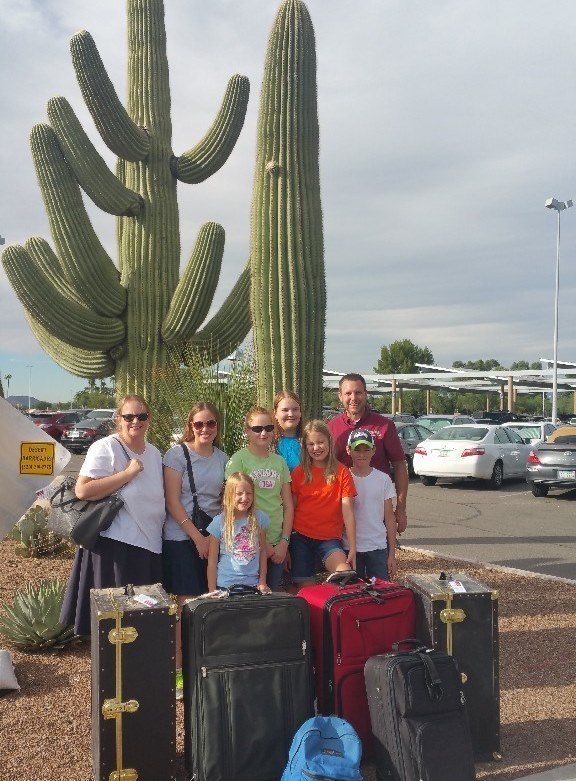 Over the past eight years, Ace and Ang Glidewell have had the privilege of bringing many missionary families to the Tucson airport as they begin their journey to one foreign field or another. The BWV has plenty of room in the back for a dozen or more large suitcases, and will seat 11 people; so it is our joy to use God's Big White Van in this way.

Today is a special trip to Tucson! Piper, our oldest daughter, will drive Ace and Ang up to Tucson where we depart for Papua New Guinea. The drivers are being driven; how exciting it is to go as a couple to serve for a month much closer to the front lines of "Reaching the Unreached."

All that luggage!? Most of it is gifts for missionaries in PNG and airplane parts.

Please pray for Ace and Ang:
Safety in travel there, while there, and on the way back.
Pray for the kiddo's who stay behind and keep the Glidewell household operating.
Ace and Ang wish to be a blessing and encouragement to those they meet along their travels, and those serving in PNG.
Pray for smooth sailing thru customs, as they are bringing almost 200 pounds of airplane parts, personal requested items, and supplies.

One of Ace's favorite Bible passages is 1 Corinthians 12 which talks about the different parts of the Body. Often Ace and Ang play a behind-the-scenes role in ministry, quietly helping and enabling others be successful in what God has called them to do. Like the liver, perhaps. Now they go as the hands. And the next chapter - the greatest of these is Love!