I wish you could have been here Monday! A waiting crowd sloshed through puddles as the drenching rain let up, their eyes glued on the cloudy skies. Through the grey came a small speck, landing lights on. Yes! Kodiak #3 approached under low clouds! The pilot passed low overhead then circled around for the landing.
Eleven months ago, Jon Leedahl lay in a hospital bed in Australia, glad to be alive but facing the prospect of losing so much of his leg that he would never fly again. But Monday, it was Jon himself sitting in the right seat, piloting the Kodiak, with Daren Spence in the left seat as pilot in command. Jon did every take-off and landing as he put his prosthetic leg through its paces. "Jon did a great job piloting the plane!" agreed Daren and the passengers making this trip from Missouri to NTM Aviation flight headquarters in McNeal, AZ.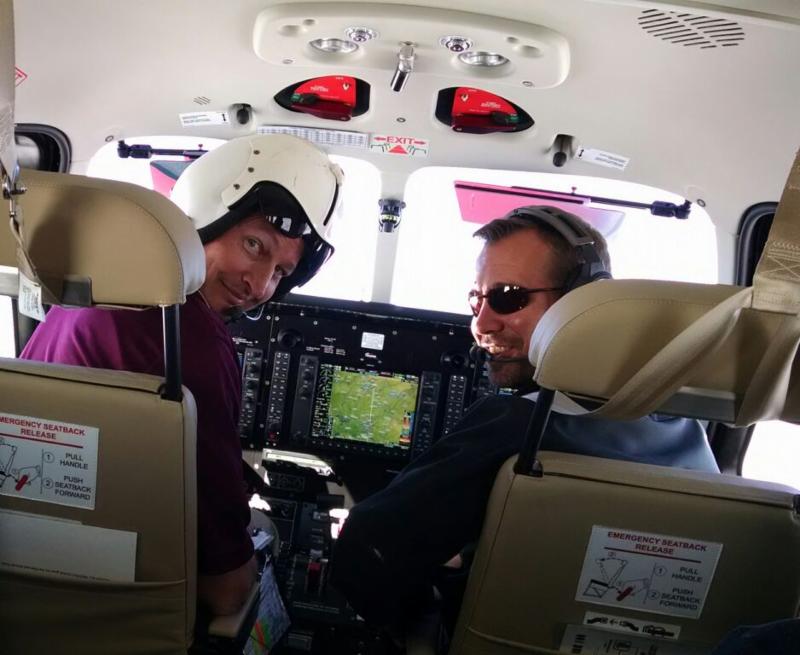 Just a year ago, Jon was training in SIL's Kodiaks in Papua New Guinea, supplying and transporting missionaries. Now, by early 2016, Jon and Adie and their three boys hope to be back in PNG, preparing once again to fly the Kodiak. But this time the goal is to fly NTM Aviation's Kodiak #1 which arrived in PNG July 22. Please pray for Jon as he continues to build his physical abilities to fly with a prosthetic leg to the same level as he did before his accident.
I hope you realize your part in these two unbelievable story lines - three NTM Aviation Kodiaks and the miraculous recovery of Jon Leedahl. God could have accomplished both of these sagas on His own. But He chose to use you -- your prayers, giving, encouragement, your telling of the story to your friends -- to work out His amazing plan. It was a circuitous route that none of us would have chosen. But in the end, "To the only wise God our Savior, be glory and majesty, dominion and power, both now and ever" (Jude 24).