The loss of a Cessna 206 in Papua New Guinea last week heightens the need to get NTM Aviation's first Kodiak in Papua New Guinea operational to serve missionaries in remote locations there.
Though the parking brake had been engaged, the Cessna 206 rolled off the side of a remote runway and sustained significant damage. No people were on board. The pilot sustained minor injuries as he tried to board and stop the plane.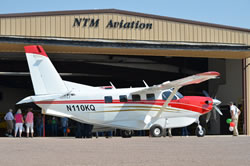 This incident comes just as NTM Aviation is shifting its flight operations in Papua New Guinea from Cessna airplanes to the new Kodiaks. NTM Aviation will now need to speed up its effort to get this first Kodiak of three intended for Papua New Guinea operational.
"The urgency of completing this Kodiak in our hangar and getting it to Papua New Guinea is greater now than ever," said Phil Koop, NTM Aviation executive director.
Funding, and prayer for God's wisdom in the process, is needed to complete the outfitting of the Kodiak in Arizona.
Please pray for the NTM Aviation flight team in Papua New Guinea as they seek to maintain vital air service to missionaries in remote villages despite this loss. Pray that the first of three Kodiaks can soon be ready and on its way.
You can help outfit the first of three Kodiaks needed for Papua New Guinea. Find out how.