We're really trying to work ourselves out of a job." Did you ever hear a missionary say that? "Nice idea," you may think, "but I doubt it ever really happens."
The concept that a people group who has only recently heard the gospel could ever have a thriving church functioning on its own seems pretty farfetched.
But it is happening. Over and over again. Not only are groups of believers standing strong on their own. Some are actually reaching out to others, not just to villages of their own language and culture, but to totally different people groups.
The Wana people group of Asia-Pacific are a great example. The team who originally reached them, Ed and Jean Casteel and Steve and Linda Rosengren, have not lived among them for years. But the Wana have a thriving church and a robust outreach. In fact, they even have missionary teams in three other people groups: the Lauje, Banggai and Da'a.
You might wonder if the Wana can do the job as well as western missionaries. Ed Casteel assures us: "The Wana missionaries who are reaching into other language groups are going through the whole culture and language acquisition process just like we all had to do – only with all the updated techniques." The Wana outreach teams have consultants visiting them just as other missionaries do, evaluating their language progress, checking their translation techniques and evaluating their lesson-writing progress.
Besides the cross-cultural outreach, the Wana church also concerns itself with isolated people groups who already have believers but need encouragement and interaction with fellow Christians. So, every few years, the Wana church hosts a Bible conference, inviting church leaders from scattered islands around Asia-Pacific – groups like the Taliabo, Buru and Tugutil.
"At first, the logistics for getting folks to this event were looking to be a bit of a nightmare, but the Kodiak airplane with its ten-seat capacity will help alleviate much of the travel challenge," said Ed. But to use the Kodiak, two older airstrips had to be reopened.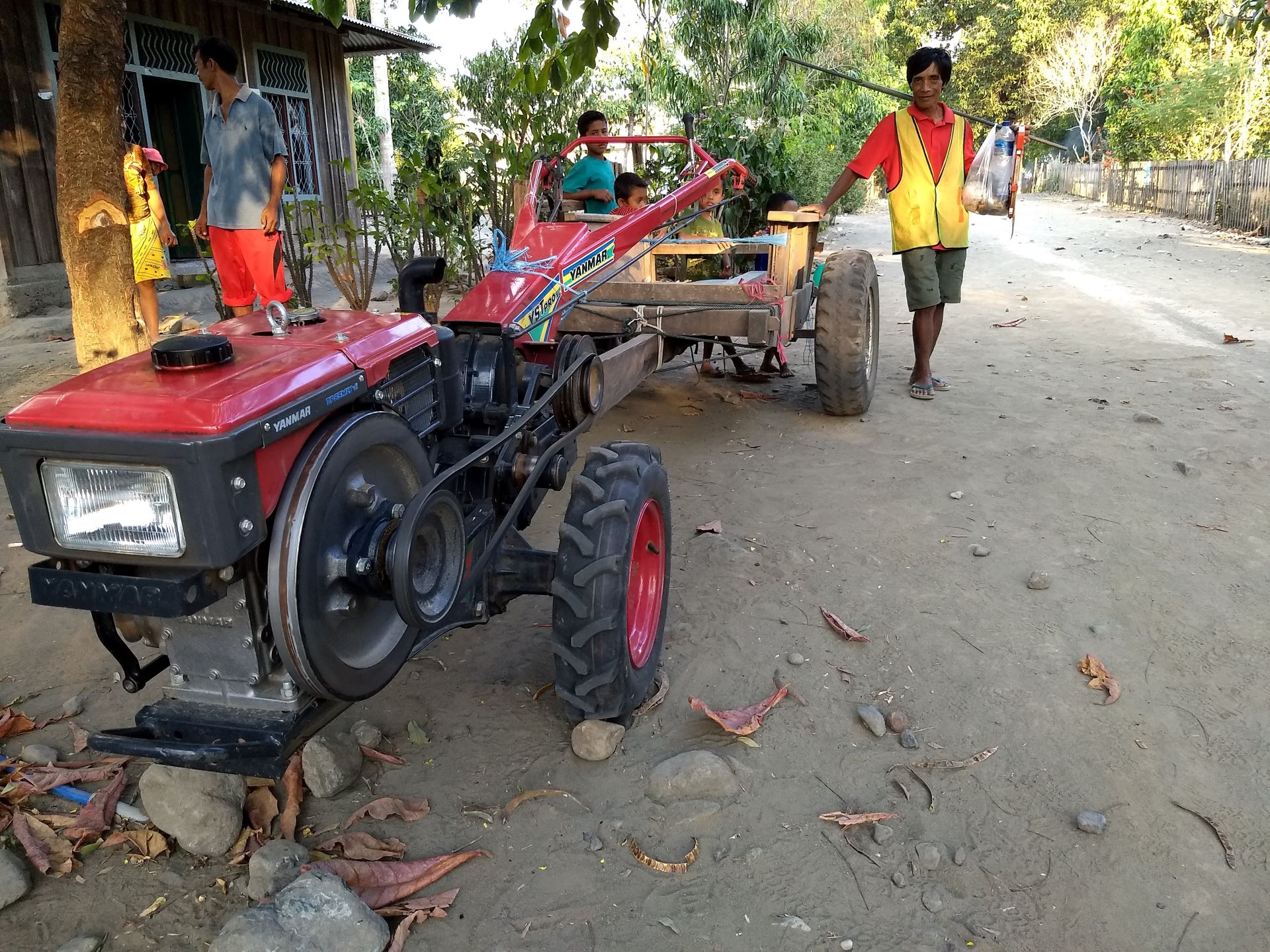 A villager with the rock-moving rig
The believers got busy, working on the airstrips. Nomad Nelman, head of our flight program in Asia-Pacific, sent a faithful man, Bambang, to head up the project at the one needing the most work. Bambang took his family with him, staying near the airstrip for three weeks. "[The strip had to be] reoriented around 5 degrees to position it over firmer ground since it was too soft before," said international chief pilot Daren Spence. Bambang rose to the task. "To move rock up from the river to the airstrip, they used a large garden tiller which Bambang figured out how to attach to a small trailer," said Daren.
Good thing the Kodiak could be used, because this was the largest Bible conference ever held by the Wana church. Believers came from across the nation. We're not talking about a resort with swimming pools or a cruise. No, this was rustic camping in the main Wana village. And the people relished hours of solid Bible teaching and fellowship. They reveled in the rare fellowship with believers outside of their small villages.
During the conference time, the Wana and their friends celebrated 41 years since the missionaries first came to tell the Good News of Jesus. And are those missionaries really out of a job? Let's ask Ed Casteel.
"I have never been busier," he writes, with a smiley icon. "But our role as missionaries has surely changed from what it used to be." Rather than living on location among the people, he is remotely translating Scripture and providing study helps for the Wana church from his home in the USA .
On the last day of the conference, Ed was on hand to see the Wana believers joyously receiving a shipment of the finished translation of Genesis and the portions of Exodus that they will use for foundational Bible teaching.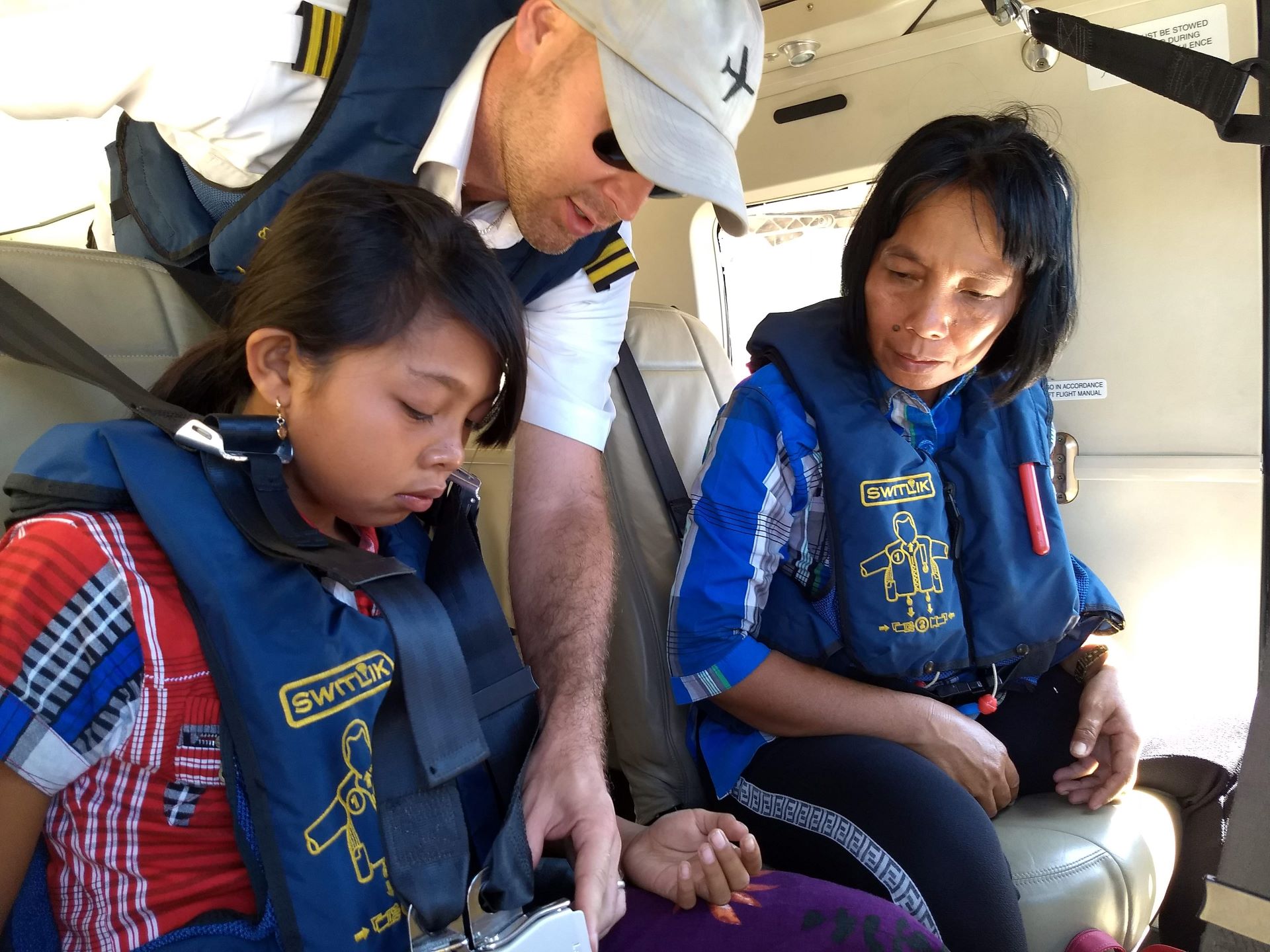 Pilot Jamin Peck helps a passenger adjust her seat belt.
Ed and the original church planting team are finding no greater joy than that their spiritual children are walking in the Truth — on their own.
You can share the joy as you give to missionary flight sponsorship. Your gifts help make it possible for believers to meet together and spur each other on in following the Lord. Thank you!