Pilot Jamin Peck always packs an overnight bag when he's flying: essentials like a toothbrush, fresh socks, and a mosquito net, just in case of bad weather. But sometimes he packs extra on purpose —like when he took Pak Hengky (our representative to the country's government) and his family to see God's work firsthand on the the island where the Buru people live.
Jamin and his passengers disembarked from the Kodiak airplane and quickly cleaned up for a wedding, followed by a baptism. "The groom wanted to publicly declare his love for Jesus on the same day as he proclaimed his commitment to love his wife as Christ loves the church," recounts Jamin. The groom had been a rough character, but his testimony was clear: "He knew there was life after death, he deserved hell, but through Jesus he could be saved. The Truth turned his life around."
The groom's story is just one of many, and the team on the island is overwhelmed with interest. Two single ladies — one Canadian, one national — are showing the love of God by teaching dozens of interested children, while the men on the team are teaching from house to house each day. Their wives are doing one-on-one Bible studies as well, and the church is growing both in numbers and in maturity.
"This is why Ethnos360 Aviation is here," says Jamin. "The team on the island relies on the Kodiak plane for support. We praise the Lord we can be a small part in what God is doing there!"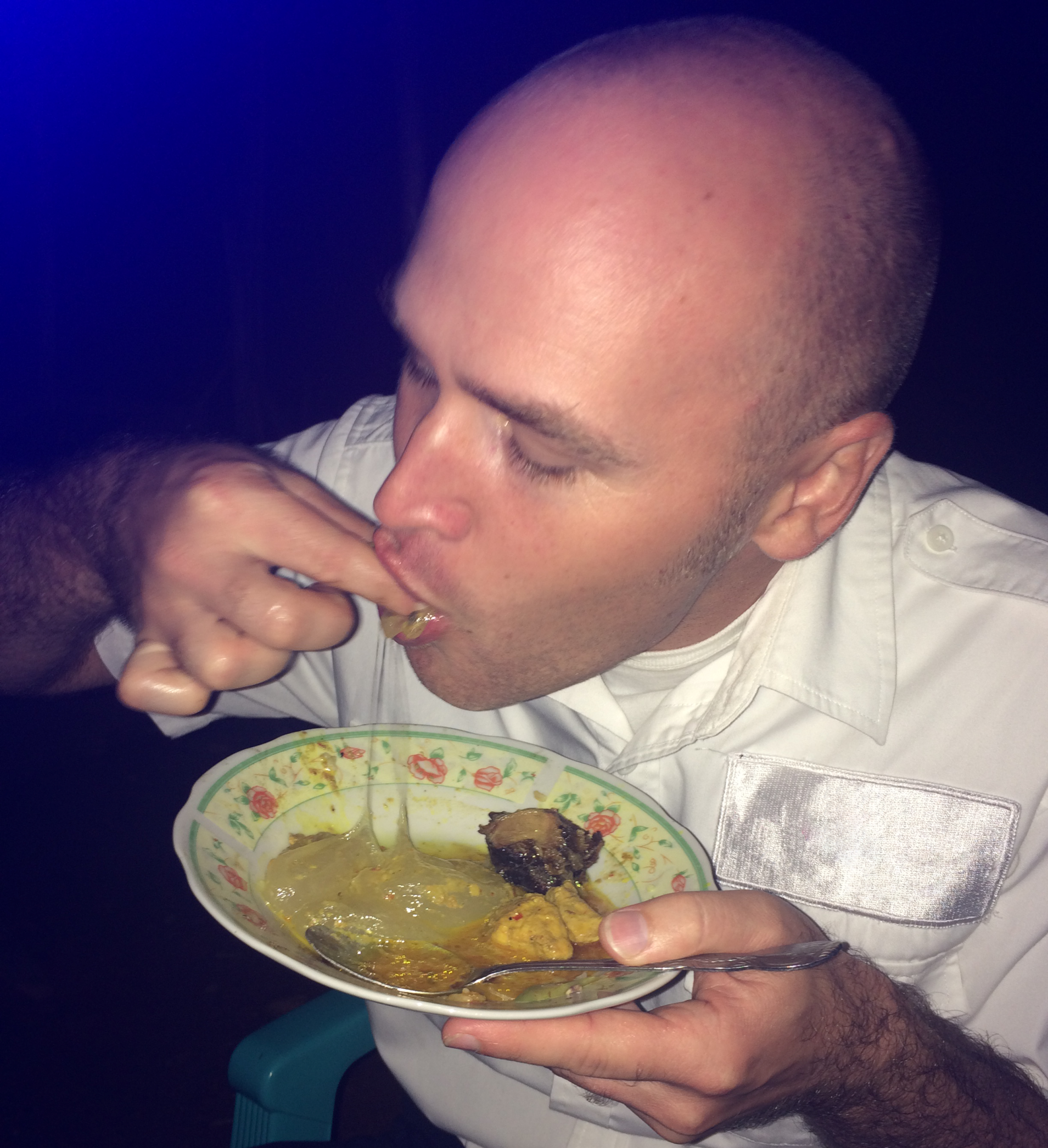 No visit is complete without a feast. Jamin savors the memory: "This one featured a rather flavorless local slimy staple made from sago root. It looks and feels like glue!" The main entrée was wild pig and cuscus, a wide-eyed tree possum found in abundance on the island.
"The groom gave a powerful testimony to God who gave him success in his hunt. He prayed, and the Lord immediately helped him catch two wild pigs from one troop before any of them squealed, in addition to catching 13 cuscus!" relates Jamin.
Can't you just taste the possum? In a sense, you can join the Buru feast by giving to Missionary Flight Sponsorship. As you share your resources to support flights, the team can teach and disciple the Buru people. In turn, the Buru people can learn to live out the life of Christ daily — whether in their marriages, their public declarations of belief, or their hunting trips. Thank you for making flights possible and affordable for the Buru team.
Moving Mountains!
Behind every flight there is a virtual mountain of paperwork. One document alone may have to be signed, submitted and approved by five or six different government offices. Many permissions must be renewed on a monthly or even weekly basis. These documents are vital: Many flights have been postponed or canceled merely because one or another permission was still in process.
Pak Hengky, our government representative, serves in the capital city, tirelessly running from one office to another, keeping all these documents up to date. Hengky and his wife, Meidi, studied to be missionaries at the Ethnos360 national missionary training center.
"We are grateful for their willingness to serve behind the scenes as missionaries to their own people, living in a part of the country that is vastly different from their home, doing the work that does not receive the accolades often granted to those of us on the 'front lines,'" comments pilot Jamin Peck. Because Hengky and Meidi keep the paperwork in order, flights to isolated people groups can continue.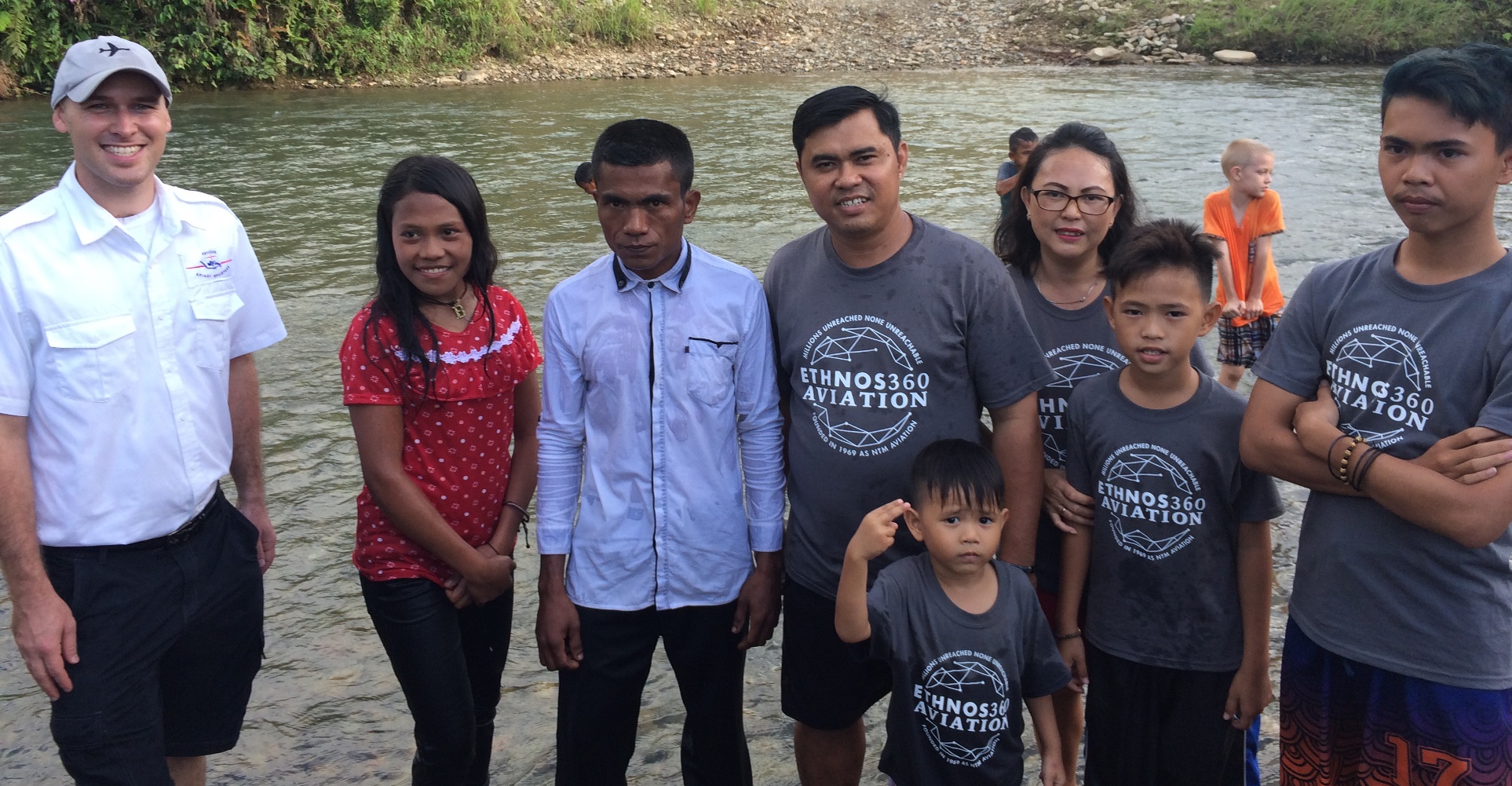 From left: Pilot Jamin Peck, another baptized believer, the groom, Pak Hengky, Meidi, and family after the baptism.
It was during a recent furlough to their home area that Hengky and Meidi and their three boys flew with Jamin to this jungle island. "It was a joy to be able to share with them the fruits of the labors they do, thousands of miles away in the concrete jungles of the capital city," says Jamin.
Even though he was on furlough, Hengky couldn't ignore the paperwork. He worked remotely, doing just enough to keep the mountain moving. "We certainly felt the effect of his not being in the city!" noted Jamin.
Without Hengky's work, that Kodiak just wouldn't fly. And without the Missionary Flight Sponsorship program, costs for flights would be prohibitive. As you give to support flights, you can, like Hengky, enjoy the "fruits of your labors" among people like the Buru!