Who wants a promise broken? Even worse, who wants to break a promise? But sometimes its unavoidable.
It happened to missionaries among the Tanguat people when they had to drop out of the ministry because of sickness. One single co-worker was left to fulfill the five promises the team had made:
Learn the language and culture
Teach reading and writing in the Tanguat language
Teach the Bible to the people in their very own language
Translate the Bible
Teach the Tanguat to reach out to other villages and even other language groups
It was a huge task for one person to fulfill. She had some help, though, from a neighboring tribe, as bilingual believers worked with her to teach and translate scripture. But they had limitations in knowing how to disciple the very young believers in Tanguat.
Hoping to see the promises kept, the Tanguat people petitioned the mission leaders in Papua New Guinea to send more team members to help. And God answered. Two families – Derek & Chantal Chen and Paul & Ellen Swenson – are now on board the Tanguat team.
Here's where Ethnos360 Aviation comes in. The Tanguat are basically located in the middle of a swamp. To establish two young families in such an isolated place for the years needed to establish a thriving church takes a massive amount of supplies. With no way by road, aviation is the essential life link for the Tanguat team.
So helicopter pilots Jon Leedahl and Mike McGregor have been on the job, flying a building crew in, sling loading tons of material for housebuilding, and keeping the team supplied. Already, the helicopter has done a medevac for a worker who fell from the roof during housebuilding and broke his leg.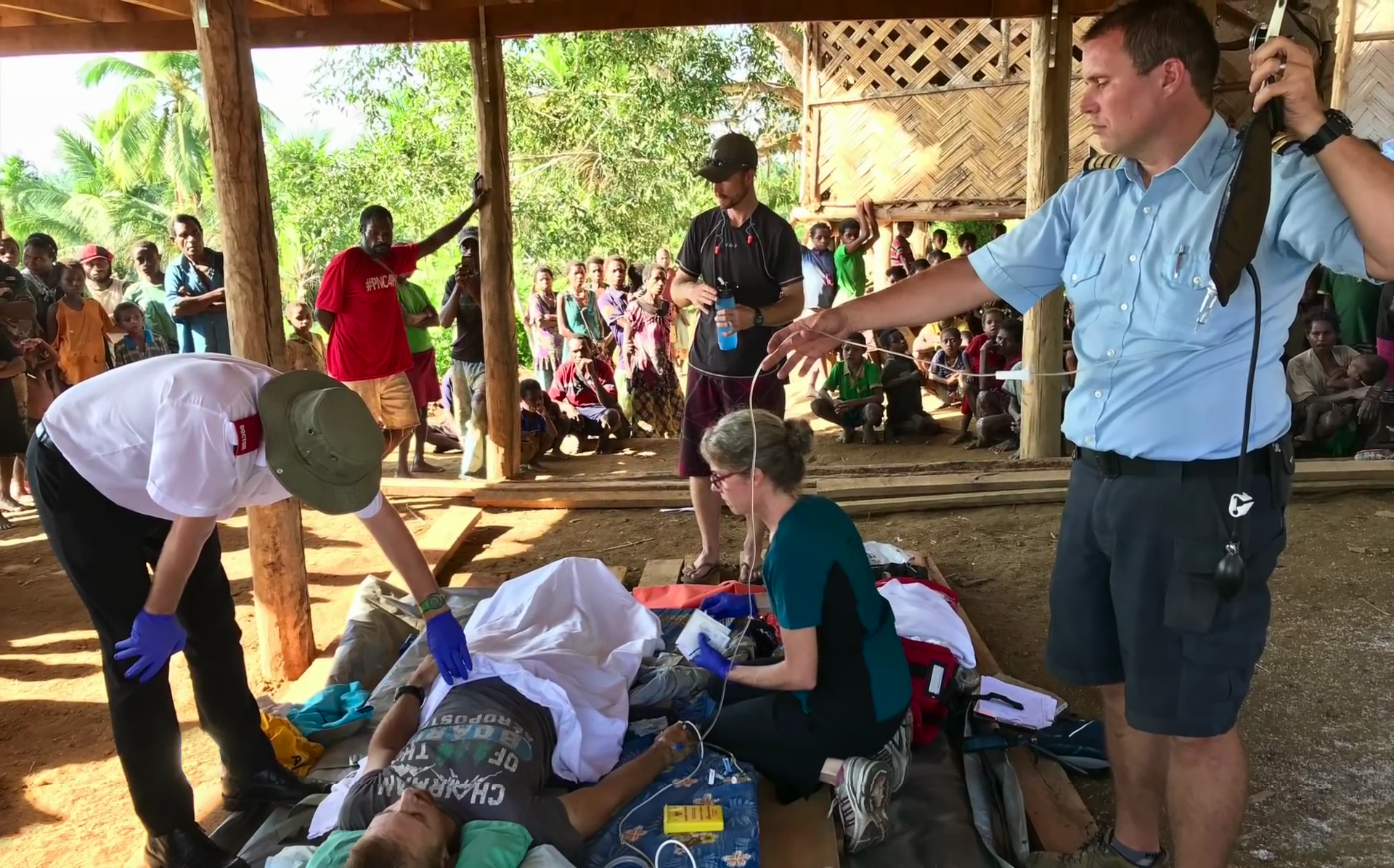 Helicopter pilot Mike McGregor holds the IV bag as mission medical staff prepare the injured missionary for the medevac flight.
Once their houses are built and they move in, the Chens and Swensons will start at the very beginning, learning language and culture until they are fully ready to teach and translate. Meanwhile, the single missionary will work with bilingual believers in the neighboring village to advance the translation project.
Keeping promises! Ethnos360 Aviation specializes in assisting teams, like the one in Tanguat, to keep their promises. We'll be there for them through the long haul. But we can only do it as people like you keep undergirding us. Thank you for making promises come true!