"Kilometer 29" is what the Tala-andig believers call it. Satan probably called it his territory. But he didn't foresee the barrier crusher.
Several years ago in the Philippines, when the main Tala-andig village became a stronghold for Christ, demons were forced to flee to the Km 29 village. That may sound strange to you, but in places without the light of Jesus for centuries, demonic activity is palpable. There in Km 29, the demons "held the people prisoner to their darkness and lies," says Ethnos360 Aviation helicopter pilot Brian Pruett.
"Because of these demons' lies, there was tremendous fear and opposition to outsiders and especially the Gospel," says Brian. "Some of the believers from the main village had relatives in [Km 29] who had an interest in hearing the Gospel." As they sought to reach them with the gospel, there were definite spirit attacks. "Some even caused serious division in [Km 29], along with scary demonic opposition and death threats."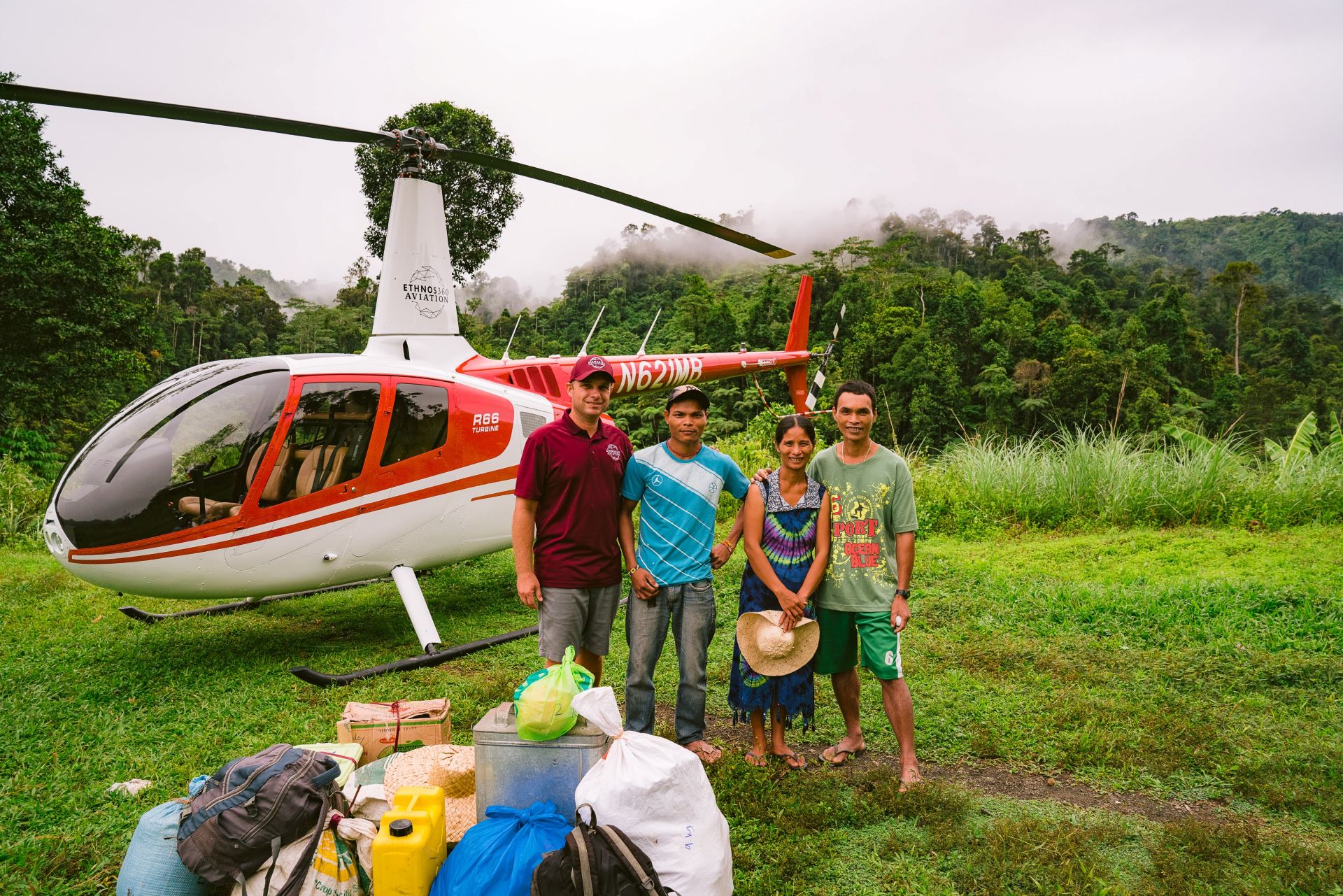 Pilot Brian Pruett with part of the outreach team, totally composed of trained indigenous Tala-andig believers
A team of indigenous Tala-andig believers, trained to be missionaries, were determined to reach Km 29 and their relatives there. But the barriers were huge. They'd have to hike and cross rivers for two long, hard days, taking food and drinking water they'd need for their stay. They'd have to leave their wives and children behind. And they'd face death threats from the opposition once they arrived.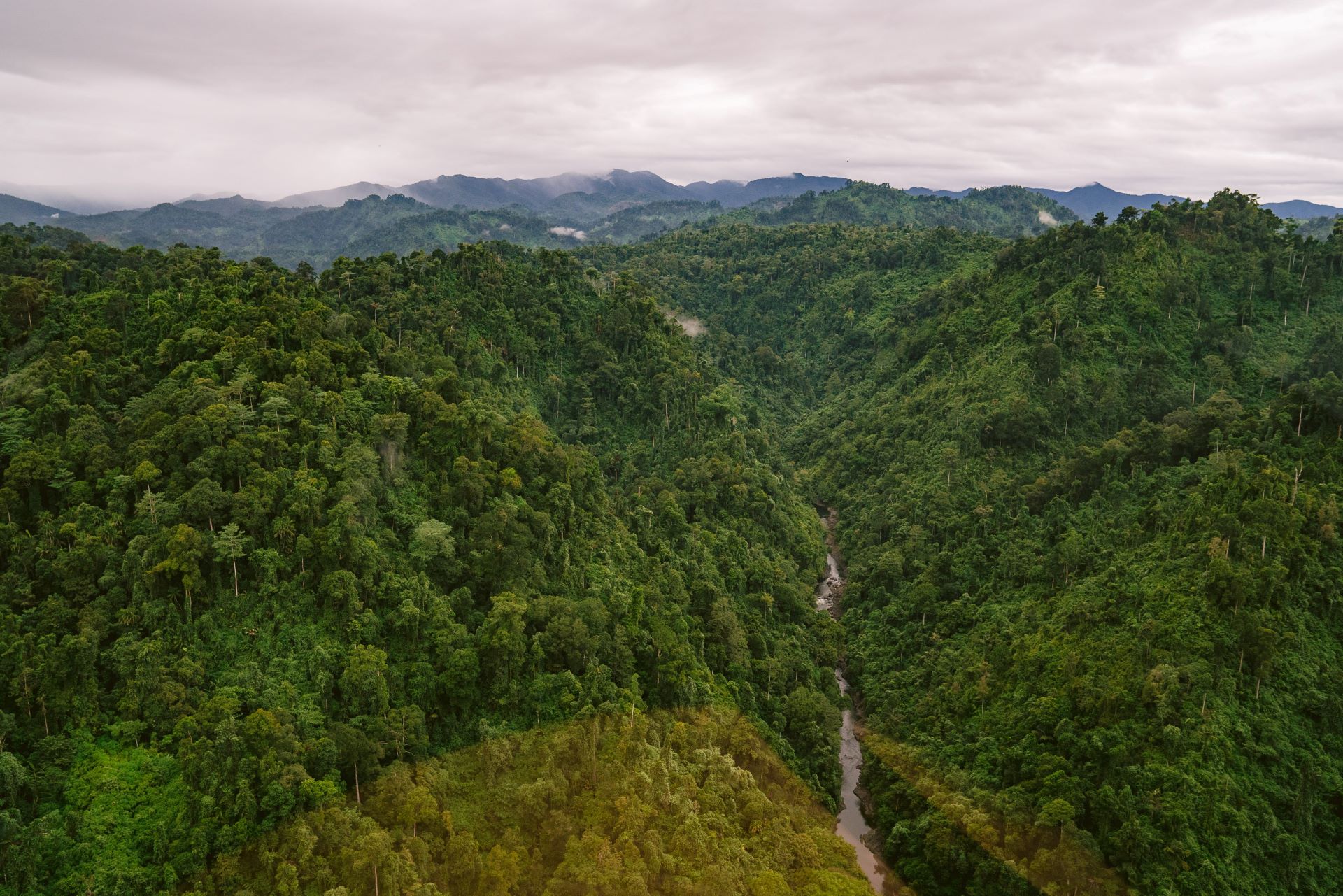 Flying over the jungle they used to hike
Around this time, God provided the "barrier crusher": the R66 helicopter. Obstacles of location and supply line melted away. Bolstered by this provision of God – and encouraged that generous people would make it affordable to use – the Tala-andig missionaries re-strategized. What if they worked in three- to four-week shifts to teach? With the helicopter, they could take all the supplies they needed for that amount of time. Couples could go together, leaving only their youngest children with relatives.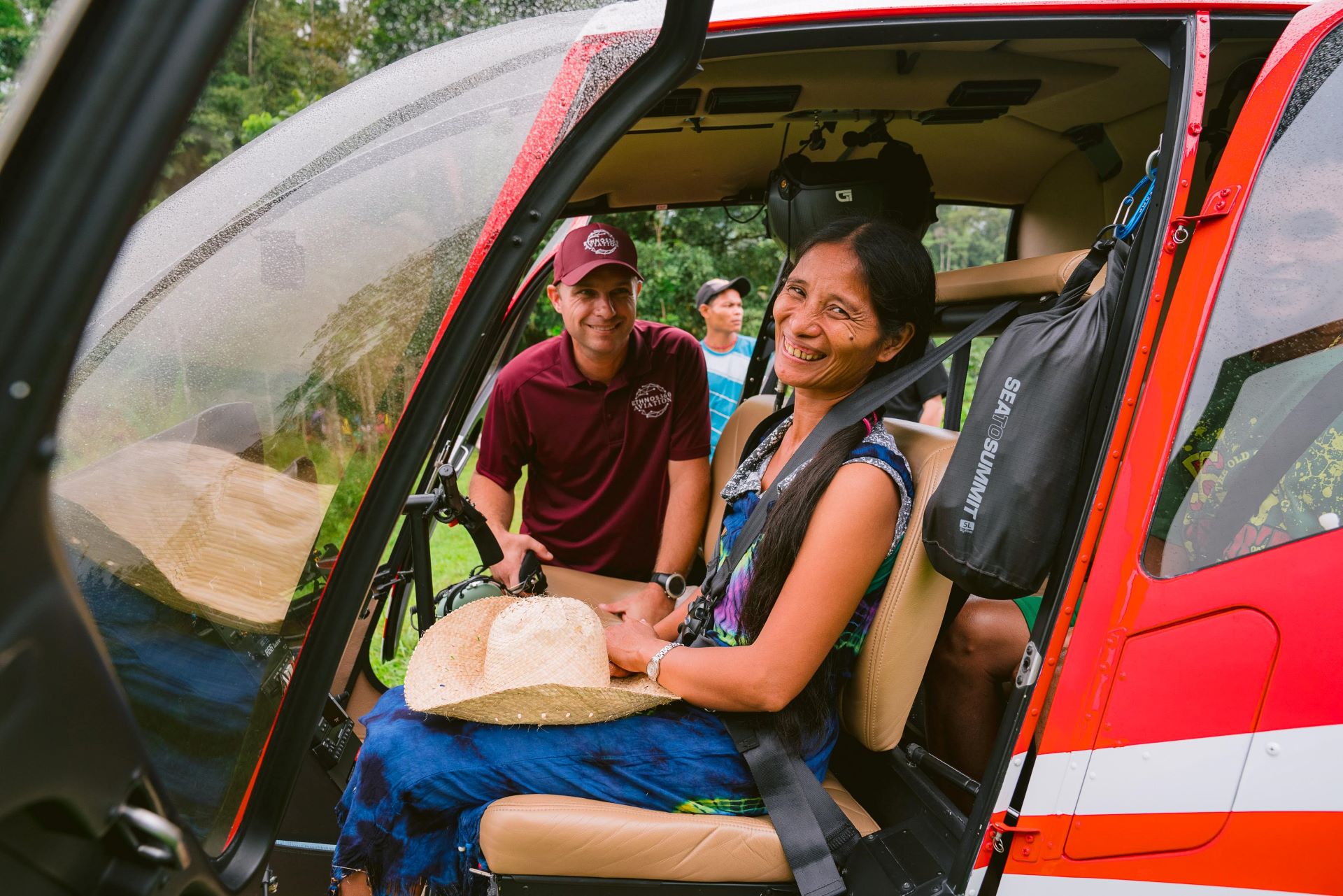 Happy to be flying instead of hiking
Their plan worked. Six-minute flight after six-minute flight, pilot Brian Pruett shuttled the groups of team members to take their turns in Km 29. They carefully taught from the beginning of Genesis, through the Old Testament, and into the life of Christ, unfolding God's panorama of providing a Deliverer for sinful man.
Finally, Brian flew the whole team – all 12 of the indigenous Tala-andig missionaries, including their older children – into Km 29 for the final lessons detailing Jesus' death, burial and resurrection. "The people were eagerly anticipating the lessons in which they were presented with God's cure for their separation from Him," he said.
Tala-andig missionaries, along with villagers, wave as the helicopter leaves them at Km 29 for their three-week shift.
And some eagerly believed! Now Brian has the privilege of flying team members into Km 29 as they take their shifts to continue teaching and discipling. But Satan, the Enemy, is fuming mad. "[The village chief and some villagers] apparently are setting up idols and doing a lot of ceremonies calling on the spirits to prevent the outreach from going ahead," wrote one of the Tala-andig missionaries.
"[T]hese dear brothers and sisters … are literally risking their lives on a regular basis … [in] this deep and dark spiritual stronghold," says Brian. "The work here has only just begun."
Brian has a message for those who support and pray for Ethnos360 Aviation: "Thank you for your partnership that allows us to bring tools to [this indigenous] team as they break down these barriers and connect people with God's Word in their heart language. God is being worshipped today in a place that was darker than any of us can imagine. This is what we as the Church should be all about, is it not?" Yes! And thank you!