NTM Aviation is in full wing with Philippine relief efforts. Additional personal are on the scene.
Just a couple days ago, Nathan Tag arrived in the Philippines with the Kodiak after a 7-hour flight from a neighboring country. Within the day, he had the plane loaded with over 1400 pounds of cargo and ready for the next day's flight. His main job will be to position fuel in key island airports for the helicopters, which will in turn fly the supplies to the small islands.
After God's timely provision of paperwork, Steffan Pyle flew to the Philippines from a nearby country in a Jet Ranger helicopter. One of our pilots met up with him, and they continued on to a more remote island to join in the supply flights.
NTM Aviation is working with MAF, HeliMission, and the Filipino local churches to find small, isolated islands without aid after the devastating typhoon one month ago.
"In some cases the people were only left with the clothes on their backs and whatever they had in their hands, as the tidal surge and winds washed everything else out to sea. So it's difficult for them to repair boats, fix or re-build houses, cook food, or maintain sanitation and hygiene without these basic supplies," wrote MAF's Dave Forney, who has been unloading cargo on the islands. "Some of the most-requested items [besides food] are clothes, cooking supplies, and basic building supplies like nails, etc."
After his people assembled 13,000 pounds of supply packs, one local pastor seemed apologetic at not having more to send—but it was only because they ran out of room to store the goods. "One thing is certain, the local pastors feel that this is a huge opportunity for the local church to demonstrate Christ's love to people who have very real needs, and in so-doing to establish trust and open doors to sharing the gospel," observes Dave Forney.
As of December 1, the R-44 helicopter alone had transported nearly 35,000 pounds of relief supplies. As of December 8, all the mission aircraft combined have transported upwards of 90,000 pounds of goods.
While some new personnel are arriving to help, John Mark Estelle, NTMA McNeal, is already winding up his time in the Philippines after he lent his aviation expertise to help the team plan strategy for the relief effort. Larry Dye of NTMA McNeal has already finished his stint there, after being on location last week to help with maintenance of the aircraft, essential to continued safe operation of the fleet. One Cessna 185 needed a 100-hour inspection, and the R-44 helicopter needed inspection also.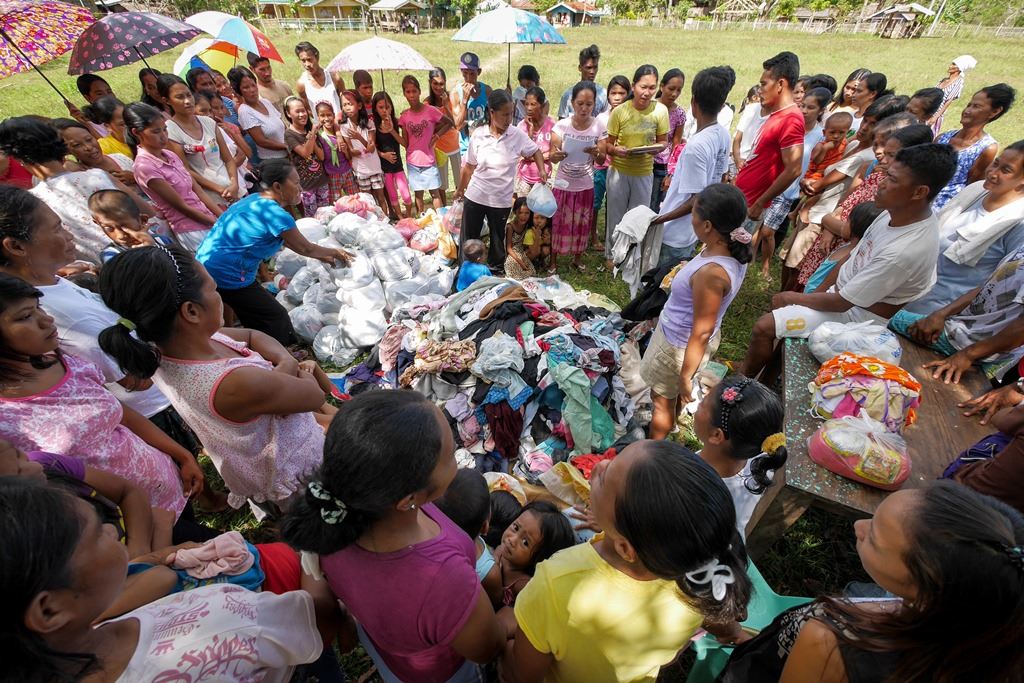 Brian Schaadt, NTMA helicopter pilot from the Philippines, interrupted his current home assignment to return and offer a hand. Garry Barkman, who previously flew with NTMA in the Philippines, has arrived with his whole family, willing to devote a couple of months to complete the relief effort.
We cannot discount the role of prayer in any effective ministry in the Philippines. Our guys and their wives and children need your continued prayers. Many flights are over open water. Thousands of people need basic supplies. The isolated island people need to see the caring kindness of our great God. Keep praying.