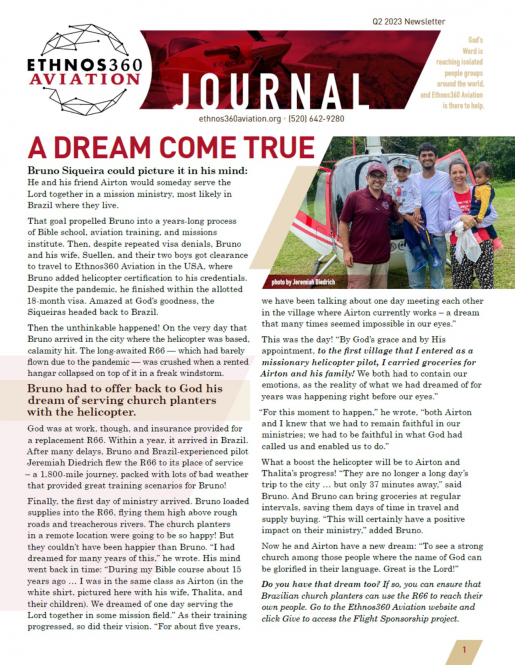 A Dream Come True ...Swept Away ... Facets of Life ... Three Helicopters: Project Completed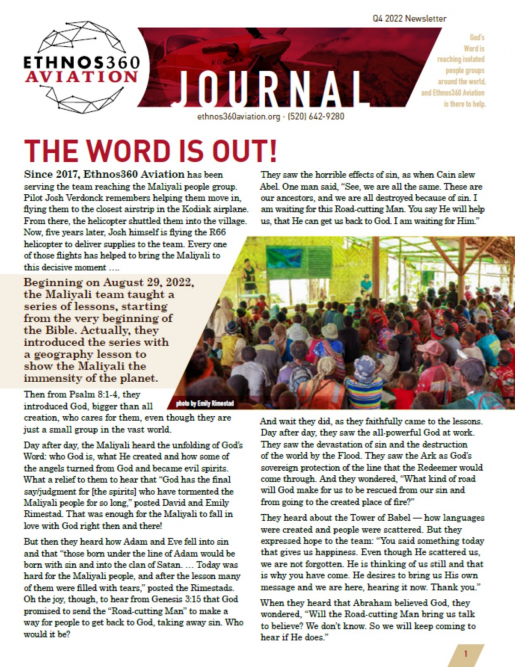 The Word is Out! ... Beads in a Jar ... Almost Home ...In their Hands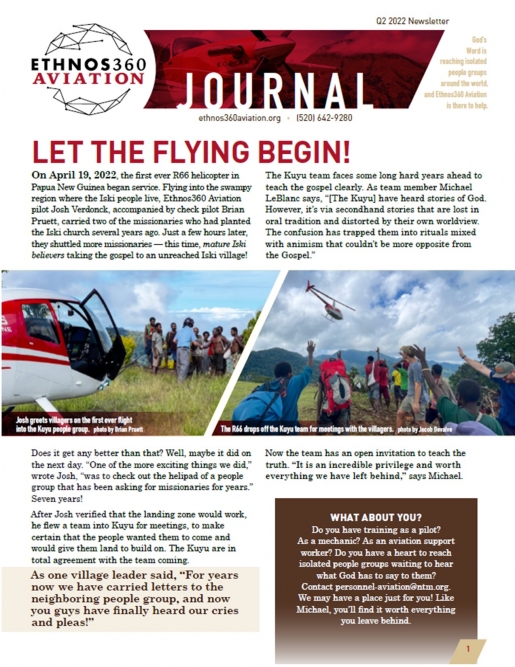 Let the Flying Begin ... Things That Don't Go Well with Flying - And the Thing That Does ... Being Like Jesus ... A (Not So) Quick Errand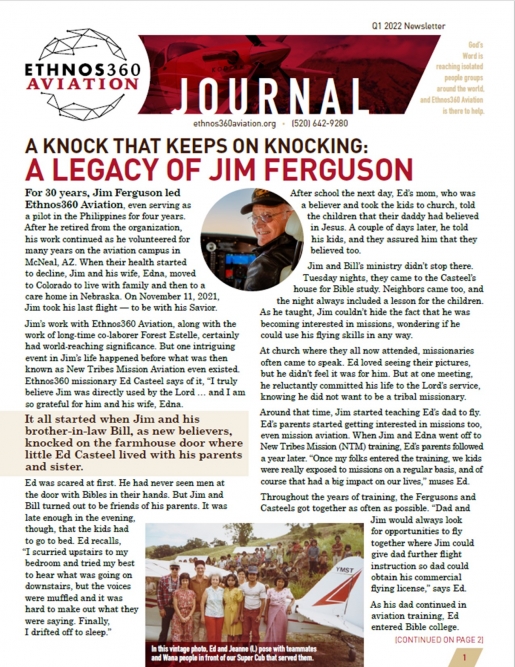 A Knock the Keeps Knocking: A Legacy of Jim Ferguson ...Under Orders! ... A New Hangar, a New Pilot - but No Helicopter ... A Moving Experience: Open Doors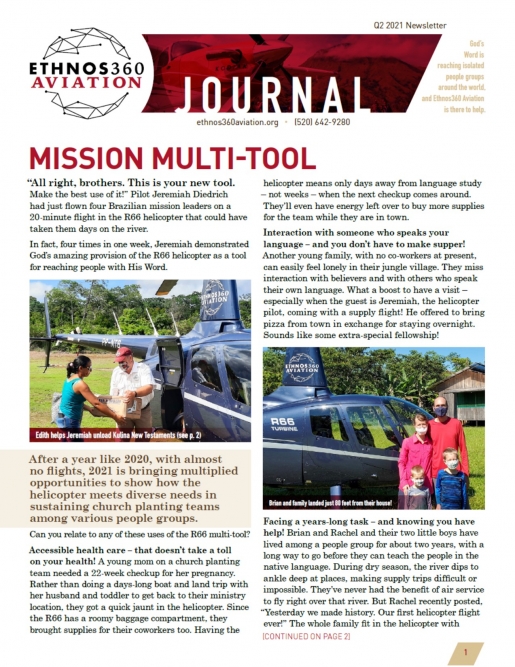 Mission Multi-Tool ... Right Under Our Noses ... Pizza Too! ... Two Realities: Opposition and the Power of God's Word ... Breaking News: Downpour of Blessings!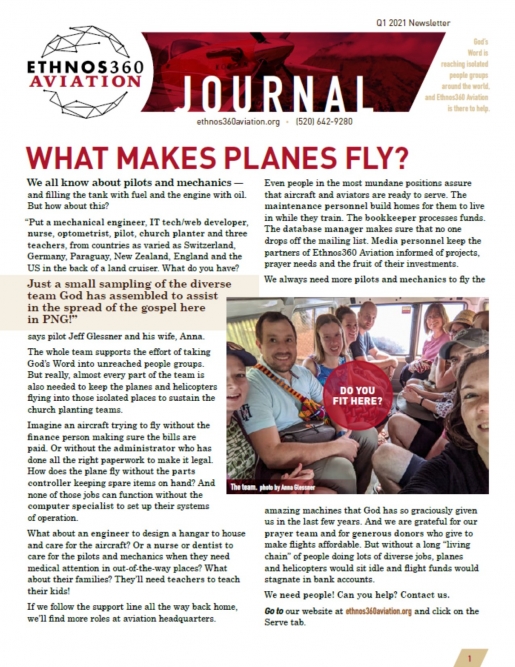 What Makes Planes Fly?...Jumping for Joy!...Relief!...R66 for Papua New Guinea...New Kodiak Simulator...From Pilot Jamin Peck in Asia-Pacific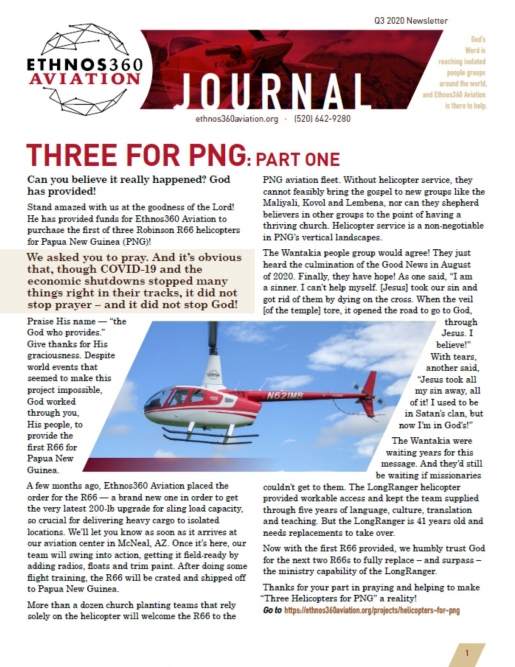 Three for PNG: Part One ... The Facilitator ... Covid-19 Obstacles ...From the World, to the World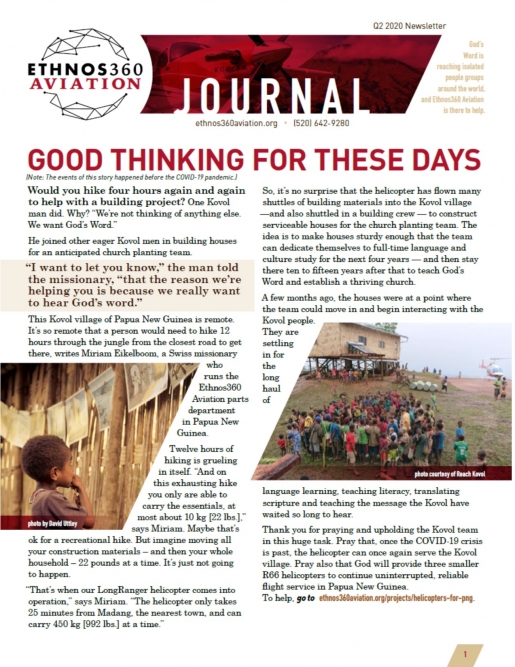 Good Thinking For These Days ... An Awesome Tool ... COVID-19 Response ... Ten Times Its Weight
Beyond Thanks...One Flight Lights a Little Fire...A Debt of Gratitude...A Thriving Church...Not the End of the Story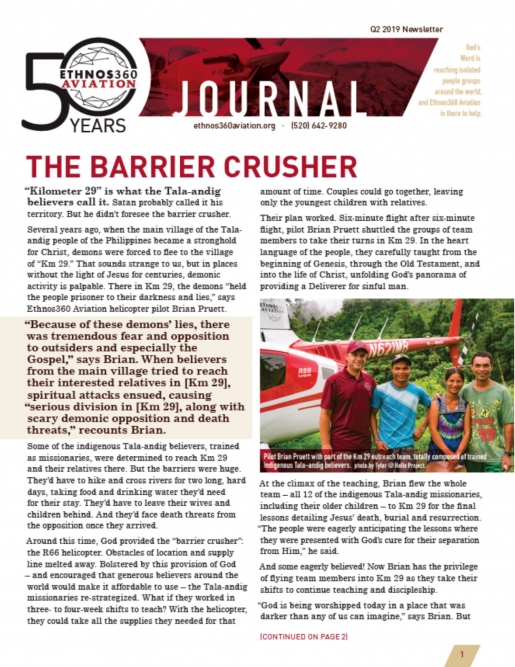 The Barrier Crusher...Closer Than Ever...When Real Life Sets In...Moving Mountains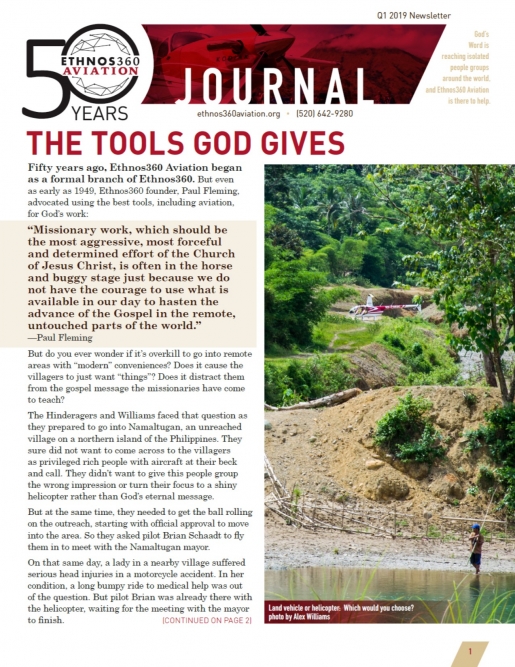 The Tools God Gives … Flying an Umbrella … The Sun is Rising on Brazil Helicopter Program … 50 years as a Life Link for Church Planting Teams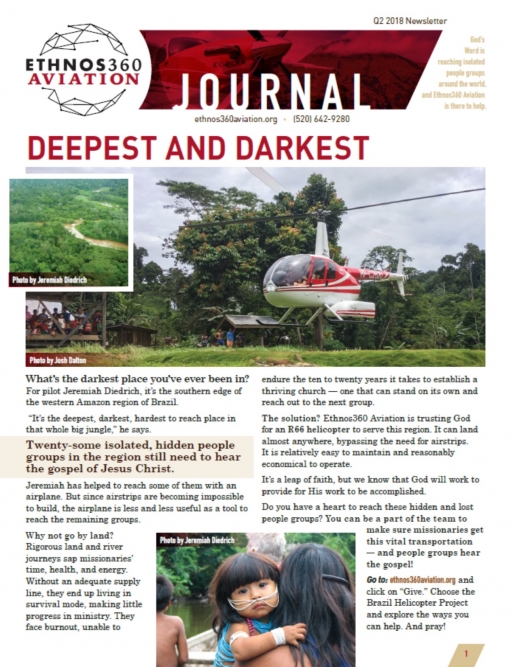 Deepest and Darkest … Why is the Earth Shaking … Not Your Ordinary Day in the Office … First Ever!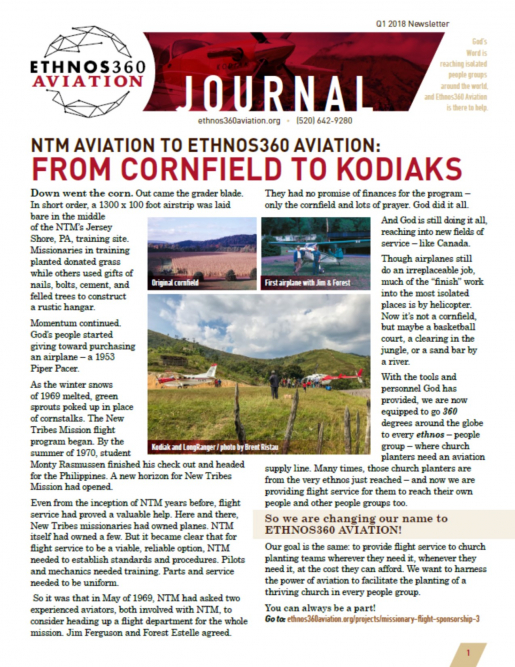 From Cornfield to Kodiaks ... Stranded on a Sand Bar ... A Look in the Rearview Mirror ... Not Just a Mechanic
Helicopter is Landing Here? No Way! ... The Time is Right -- Again! ... Helicopter Hope ... Something Old -- Something New! ... Kodiak Fleet in Full Swing in PNG!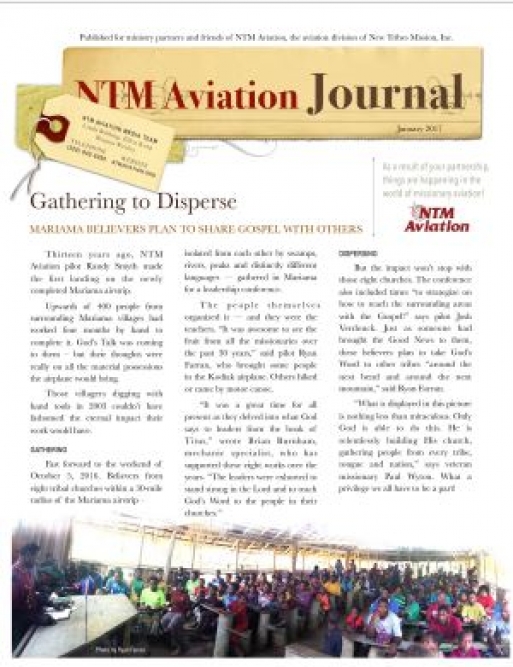 Gathering to Disperse ... Typhoon Opens Opportunity for Outreach ... Tribal Missionaries Not Waiting ... Blue News -- Gold News!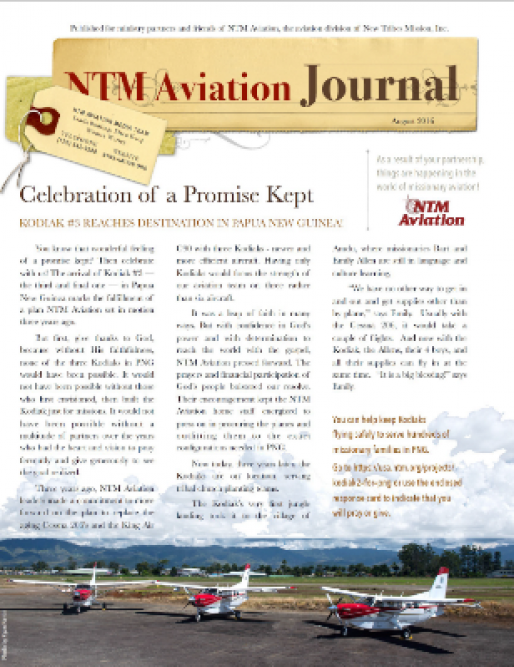 Celebration of a Promise Kept ... Former Headhunters Get Medical Help ... Mission Accomplished?... R44 Flying on Mindanao Island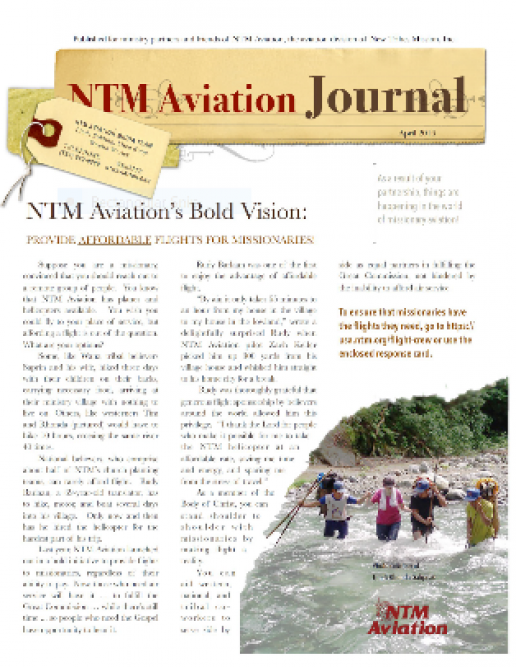 NTM Aviation's Bold Vision ... Bearing the Load ... Mending Bodies -- and Relationships ... On It's Way: R44 to the Philippines
Complete Fleet ... Start to Finish: Seeing Results ... Brazil Launches Flights -- and Just in Time! ... First Kodiak Arrives ... R66: A Helicopter for the Difficult Places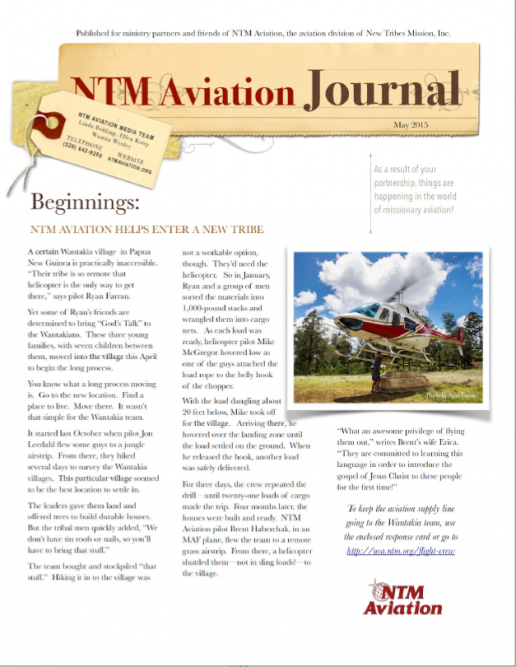 Beginnings ... NTM Aviation Helps Enter a new Tribe ... New Life in Brazil ... New Helicopter to Reach Deeper ... A New Leg of the Journey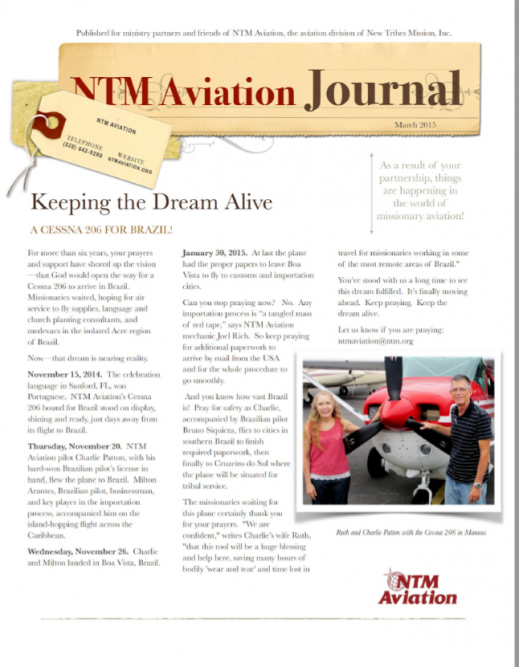 Keeping the Dream Alive ... Making Ministry Possible ... You Prayed, God Worked! ...Eleven-Year Wait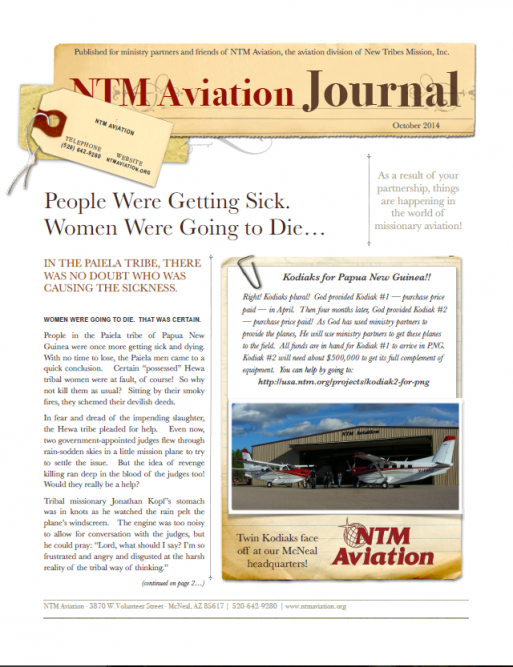 People Were Getting Sick. Women Were Going to Die ...Now Is the Time! ...If They are Willing, So are We!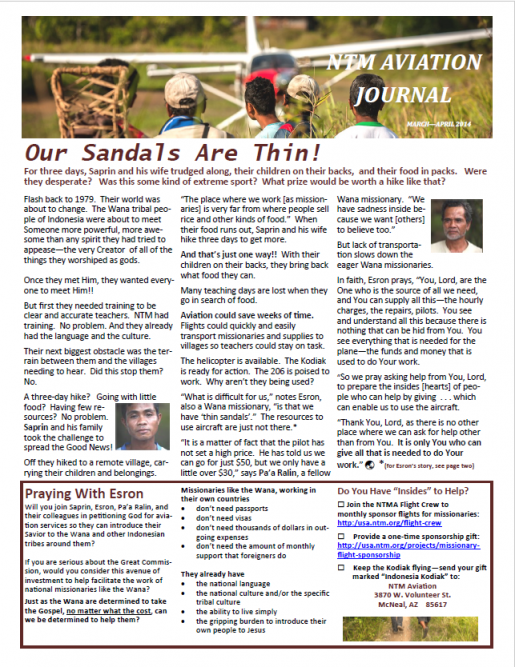 Our' Sandals are Thin! ... 'The Man with Thin Sandals' ... Expanding the Reach of the Kodiak
Flying Forward! ... Standing Still! ... Already a Part ... Meet the Deni ... NTM Aviation Pioneer Aviator with the Lord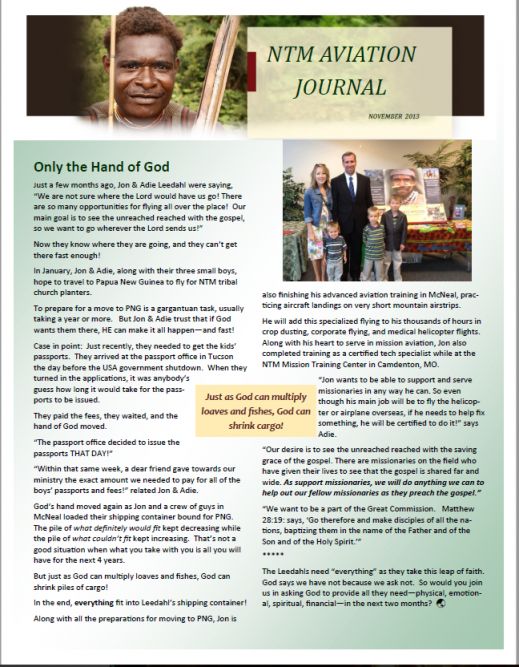 Only the Hand of God ... Eye Witnesses ... Last Link in a Long Chain -- Typhoon Haiyan Relief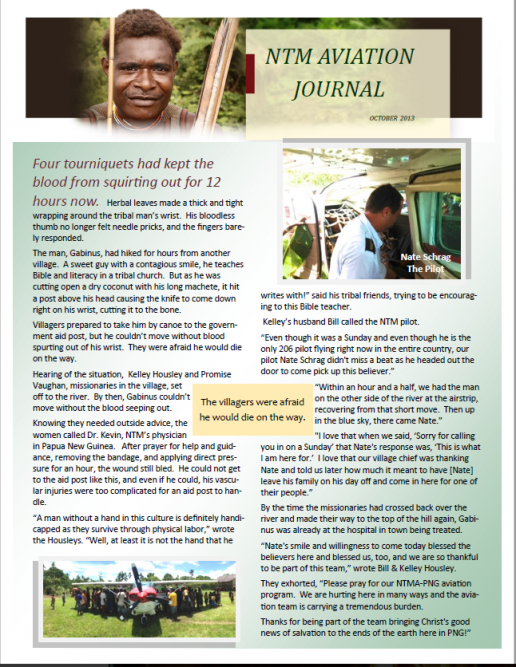 Four Tourniquets ...Rugged Mountains. Steaming Jungles. Scattered Islands ... The Little Chopper That Could...Still Can!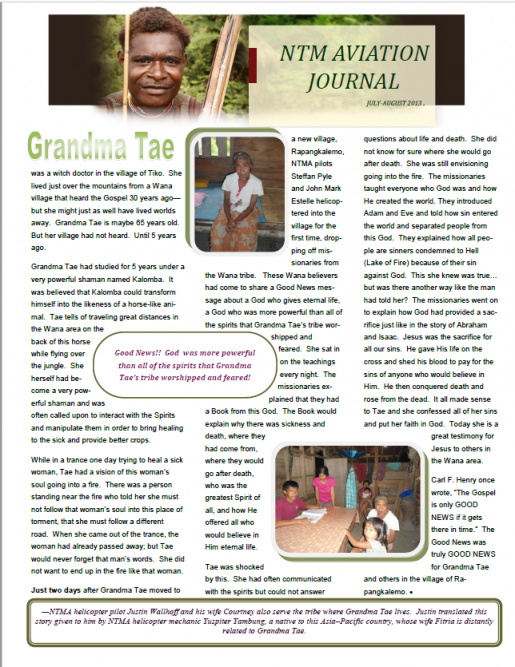 Grandma Tae ... A House in Hewa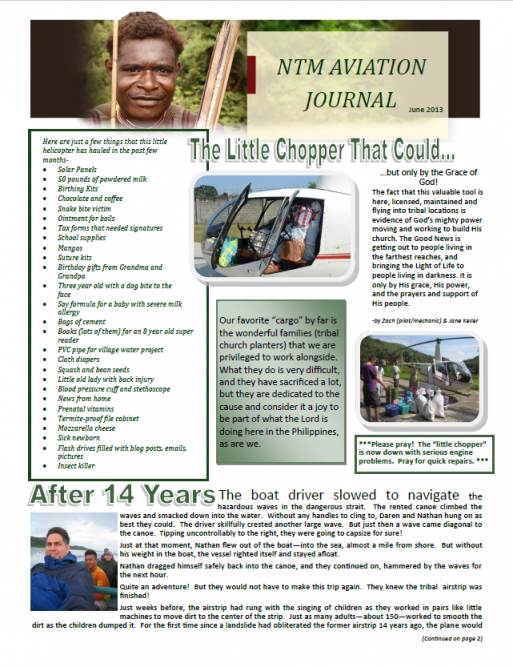 The Little Chopper That Could ... After 14 Years ... Tribal Update from PNG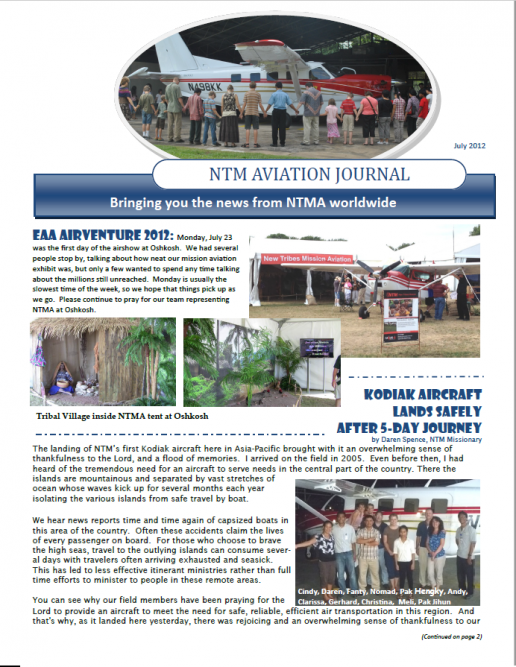 EAA AirVenture 2012 ...Kodiak Lands Safely After 5-Day Journey ... The Oldest Man is Reaching Out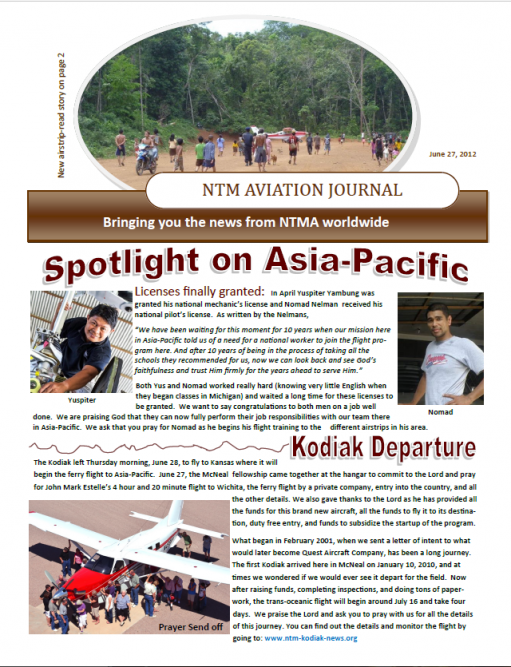 Spotlight on Asia-Pacific