Disaster Relief Emergency Fund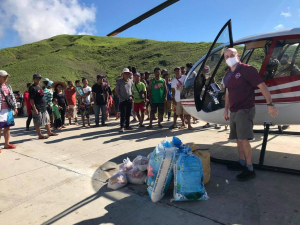 See other ways to give besides credit card.
Disaster Will Happen, Again
Typhoons and tsunamis. Earthquakes and eruptions. Floods, fires and famines.
The remote areas of the world where Ethnos360 missionaries serve seem particularly susceptible to disasters and other emergencies. It may be that poverty makes preparation nearly impossible, or just the diverse geography creates difficulties. Either way, these areas seem to be hit the hardest. Ethnos360's presence there -- along with our knowledge of these difficult disasters and our ability to get into and out of them -- puts us in a unique position to bring effective relief, quickly.
The Goal -- To Be Prepared
We train our missionaries how to respond to dangers they face. We want them to be prepared for just about anything. In light of the recent typhoon in the Philippians, we know we must be prepared, as a mission, to help the precious lives affected by the next disaster.
The Disaster Relief Emergency Fund will give Ethnos360 the resources to respond quickly to needs in any location. We plan to immediately begin buying and flying relief supplies to hard-hit areas even before funds begin to flow from generous donors.
How You'll Be Helping
Your gifts will jump-start relief efforts in the case of a disaster. You will help get the first food, water and other aid to people who desperately need it. Partner with us today to help give relief for tomorrow, or whenever the next disaster strikes.