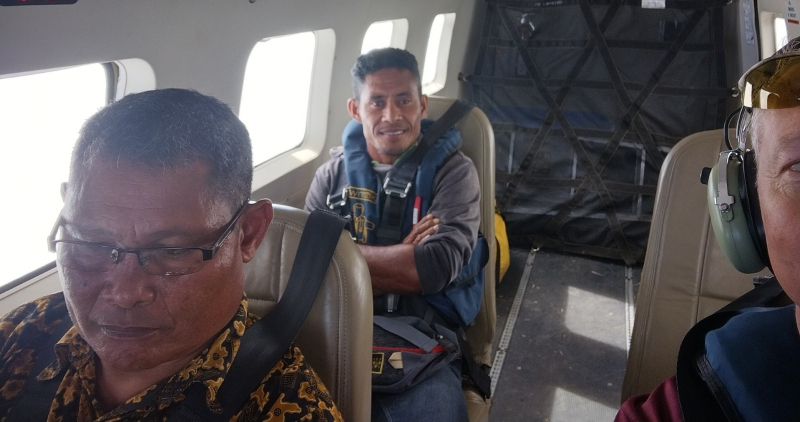 Daren (r.) felt privileged to fly 299 miles with these men of God.
When's the last time you took a trip of 299 miles? For most of us, that's not a terribly long trip. But for those living in remote areas of Asia-Pacific, traveling 299 miles can take days. On a recent trip to that country, Ethnos360 Aviation International Fixed-wing Chief Pilot Daren Spence saw firsthand the dedication of two men from the Tugutil people group who traveled 299 miles.
"In 2021, the group received the translated Bible in their language. Even before that, the Tugutil church had portions of Scripture in their language. Brought on by that access to the Word, the first Tugutil church has, for a long time, been pressing into the jungles, taking with them the gospel message of Jesus Christ to villages even more isolated than their own. These two men are front line missionaries, soldiering on into the jungles with the greatest message on earth. So, why did they travel 299 miles?
"Just like the apostle Paul, and other missionaries today, they went to give a report but also to strategize with other missionaries – around 60 of them. From the far reaches of a region with limited access to the message of Jesus Christ, the group met together for half a week. Comprised of some expatriates, but mostly people from Asia-Pacific, they each shared about successes, trials, opportunities and challenges. For example, a small church in the interior parts of one island is seeing lots of interest from those in other villages who want to hear what God's Word teaches. Another island, one historically closed to gospel spreaders, has four different tribal groups who need a gospel witness.
"For this 299-mile trip, days of travel were reduced to just two hours in the Kodiak airplane. The men were safely flown to their destination and arrived fresh and ready to engage in the meetings. It is such a joy to see gospel spreaders from many different backgrounds and cultures serving together to take God's Word to those who have never heard.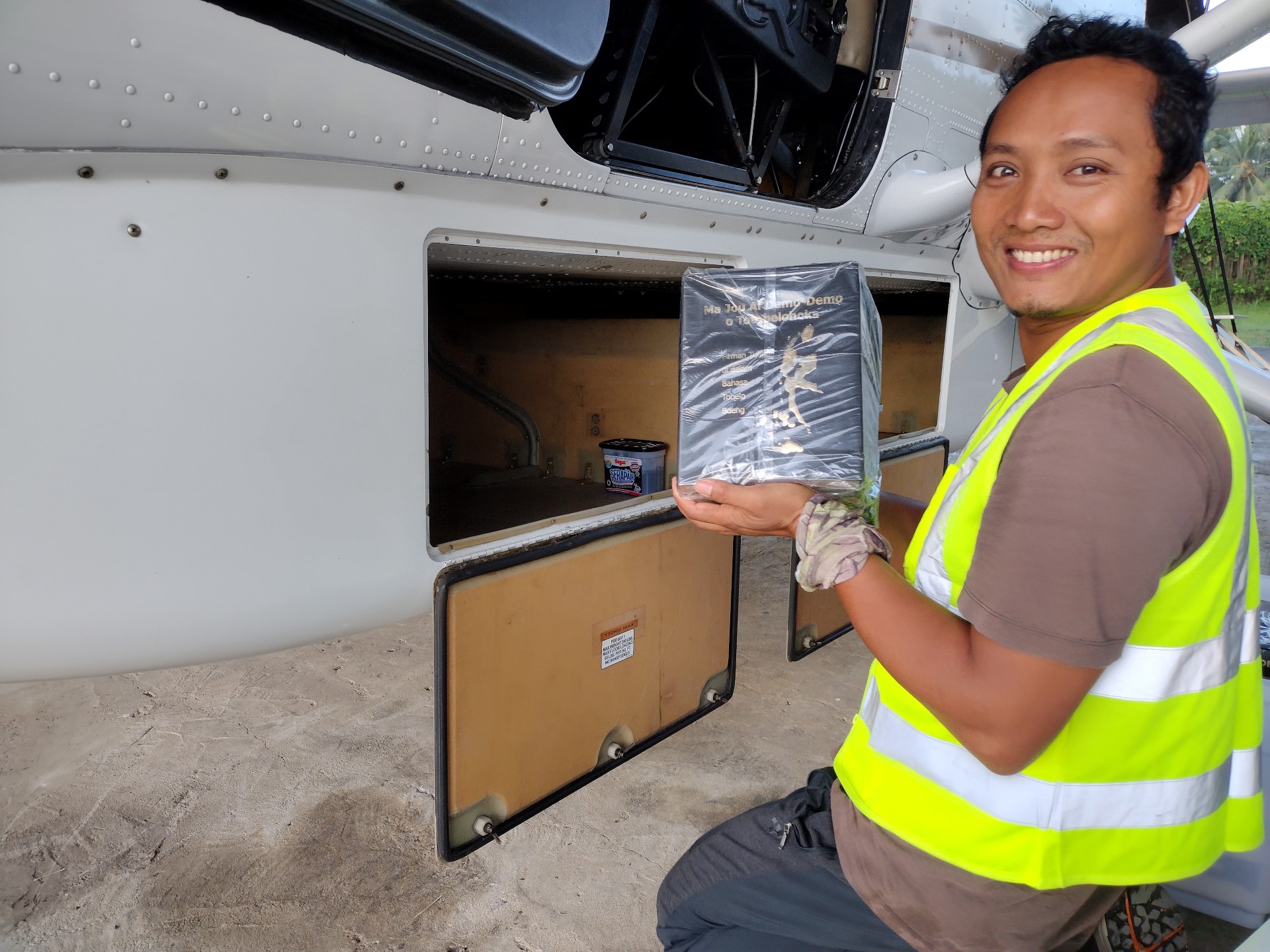 Bambang - doing his part to change lives!
"By the way, this trip started out with delivering more Bibles to the Tugutil people: 430 of them! As aviation support worker Bambang Kadir loaded the Bibles for the flight, it was obvious that he 'gets it.' Bambang understands that God's Word is powerful and life changing. While this particular story started out with delivering Bibles to one people group, the story continues as more and more people groups receive God's Word in their language."
"The thought that continues to amaze me," wrote Daren, "is that we all get to be a part of getting God's Word, the message of salvation in Jesus Christ, into the hands of people who literally have never heard the gospel message." For example, though Daren previously flew with Ethnos360 Aviation in Asia-Pacific, his current role as a pilot instructor in the USA gives him a vital part of the outreach in Asia-Pacific.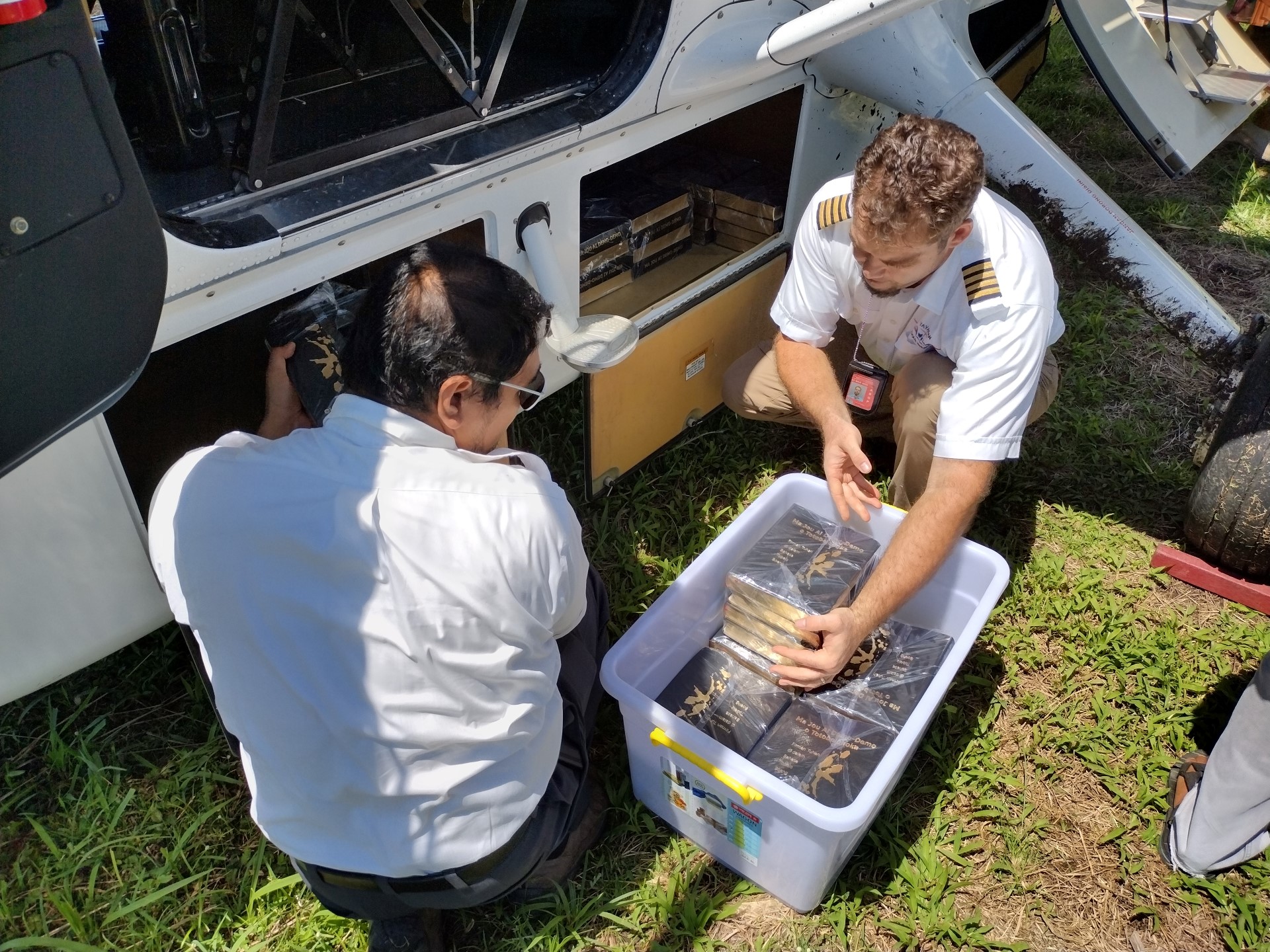 Pilots Nomad Nelman (l.) and Jared Kresge load Tugutil Bibles.
The two men in this story, as well as many other national missionaries, depend on affordable flight for their ministry. You can be a part of making this possible. As Daren says, "Thank you for being part of the team that is serving together to see this happen."