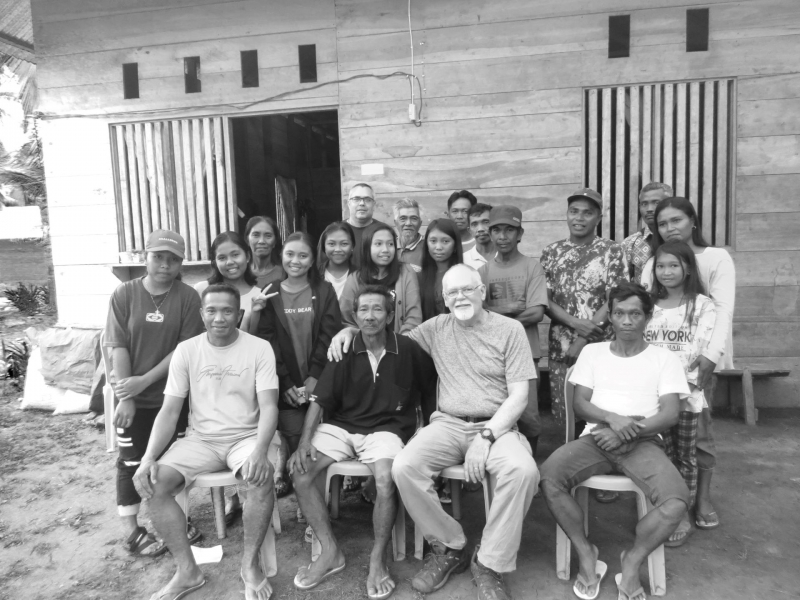 Ed Casteel (seated in the front) on a trip to Wana earlier this year.
"Talk about the gospel coming full circle! We can't contain our excitement over what is happening with the Wana folks who live in the Kayayo Valley!"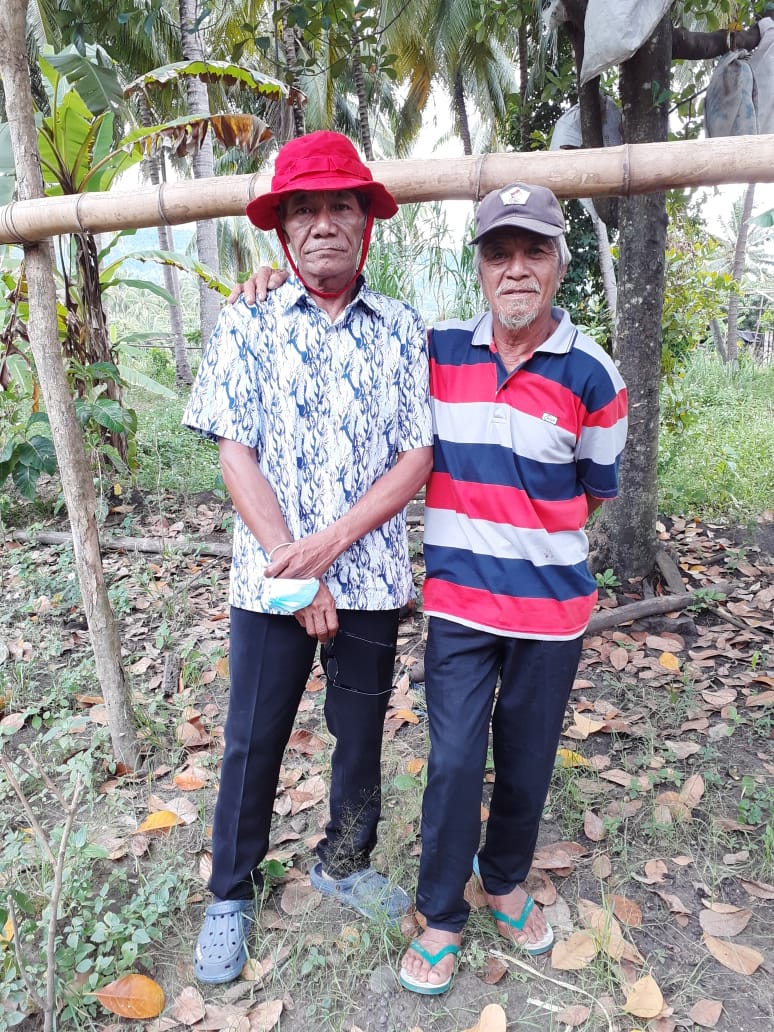 Pa'a mPera (r) today with a friend
Forty-four years ago, an eager young Ed Casteel and his coworkers needed some guides to survey the remote but numerous Wana people group of Asia-Pacific. A young man (now called Pa'a mPera –"Father of Pera) and his friends from the Kayayo Valley eagerly guided Ed on an arduous hike to a different area called Uebone. About a year later, Ed and his co-workers moved into Uebone, little knowing that this would become ground zero for an eventual explosion of the gospel to the Wana people – even reaching to four other language groups where Wana believers are now working.
Back then in 1978, though, the going was slow. Ed and his team started from scratch to learn the heart language of the Wana people. Was it a waste of time? He knew that the church group in Pa'a mPera's home valley of Kayayo had a church building full of people. From outside appearances it would seem they were making great progress at a faster pace using the national trade language to teach.
Ed's progress was slower, but he built solid foundations. He recalls those early days, and especially one particular fellow: "[Lefran] was about 20 years old when we moved into Uebone 43 years ago. He was very instrumental in helping us get set up in our new bamboo houses and also very instrumental in helping us learn the Wana language." After a few years, the missionaries gained language skill to translate scripture, teach literacy, and write Bible lessons. "Not long after we began the teaching, Lefran came to know the Lord as his personal Savior. He has since been a tremendous witness to his Wana friends and relatives," says Ed.
Just recently, a new group of over 100 Wana people asked to be taught the gospel. Surprisingly, it was Pa'a mPera's people from the Kayayo Valley! Since they were taught in the trade language all those years, they had found it difficult to understand the gospel message. "Now they are asking if we would be willing to teach them in their own 'mother tongue,'" wrote Ed. Of course, the answer was "yes, we would love to do that!" Ed thinks that reaching the Kayayo Valley opens the potential to eventually touch hundreds, even thousands of people in that valley.
Earlier this year, as time for the outreach grew closer, Ed kept tabs on the situation from his current home in the USA. "More and more people are showing interest, so we don't know how many people will end up wanting to be taught. Of course, this doesn't come without some opposition as there have been some who have been ridiculing our evangelistic team in various ways. [But] these are exciting days as the people [anticipate hearing] the gospel being taught in their mother language for the very first time!"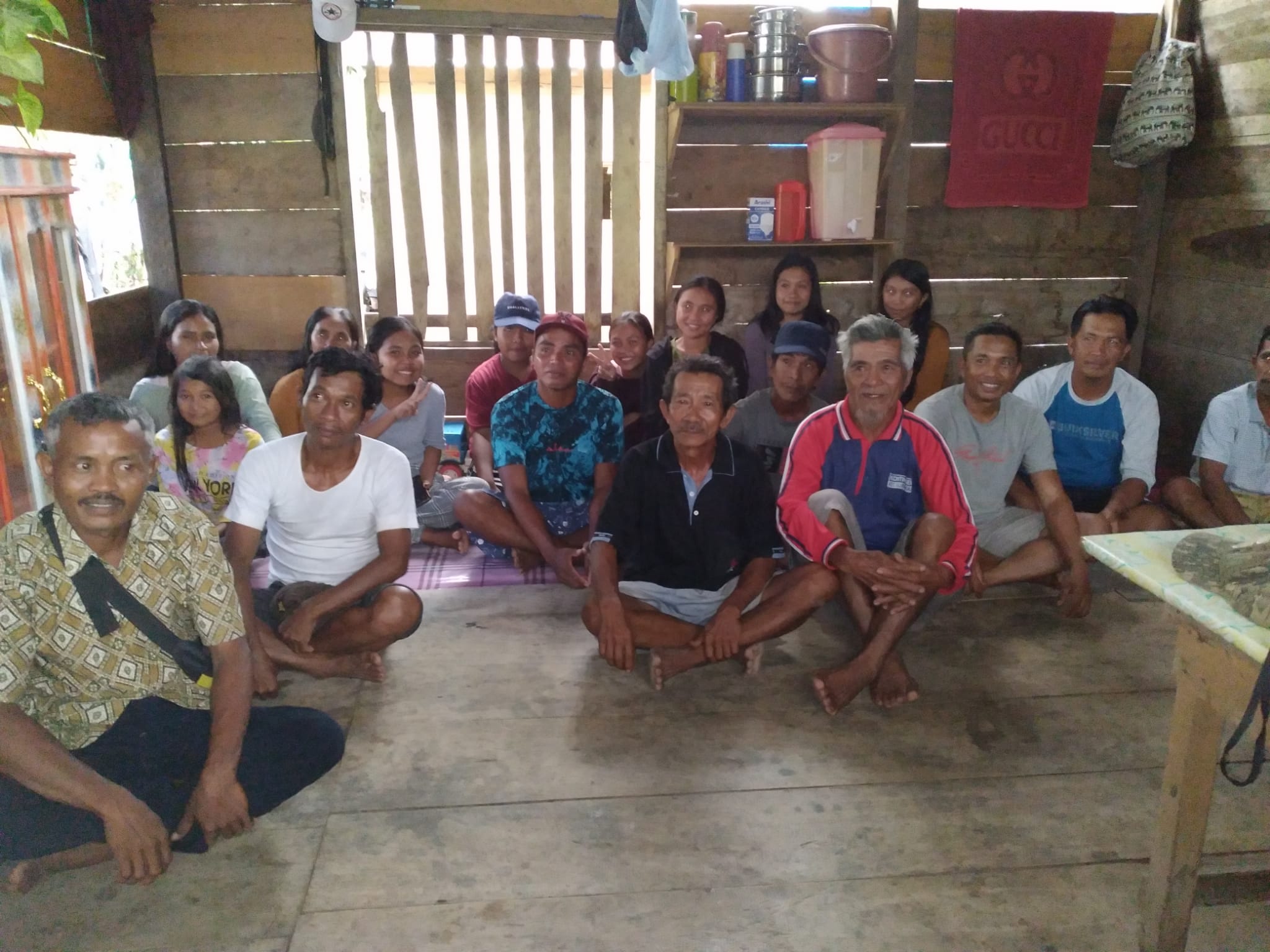 Pa'a mPera (red shirt) in the meeting
February 11, 2022, marked the kick-off of the outreach to Pa'a mPera's valley. Ninety-one people came out for teaching on the first day! Then attendance grew to 100, with more wanting to join. With the house filled to capacity, they have moved the teaching sessions outside under tarps. On May 23, Ed got this message from Lefran: "With us the news is still good. If we count all the people [that came Saturday and Sunday], there were around 200 in all. Wow! Praise the Lord because He is the owner of the plan of the things happening in [Kayayo Valley] at this time."
"Talk about the gospel coming full circle!" exclaims Ed. In 1978, Pa'a mPera guided Ed Casteel to Lefran's home area and they heard the gospel. "Little did Pa'a mPera know ... that 44 years later one of the fellows he led us to [Lefran] would now be sharing the gospel message with him! Rejoice with us in what is happening!"
The Wana probably would not have been reached 44 years ago if Ed Casteel hadn't had flight service. To this day, the Wana church depends on flight to keep their church thriving. And, as people like you have helped provide affordable flight, they are reaching out to other villages where their people live and even cross-culturally to other language groups. Thank you. Pray their zeal will continue and that the Kayayo Valley will burst open wide with new life!