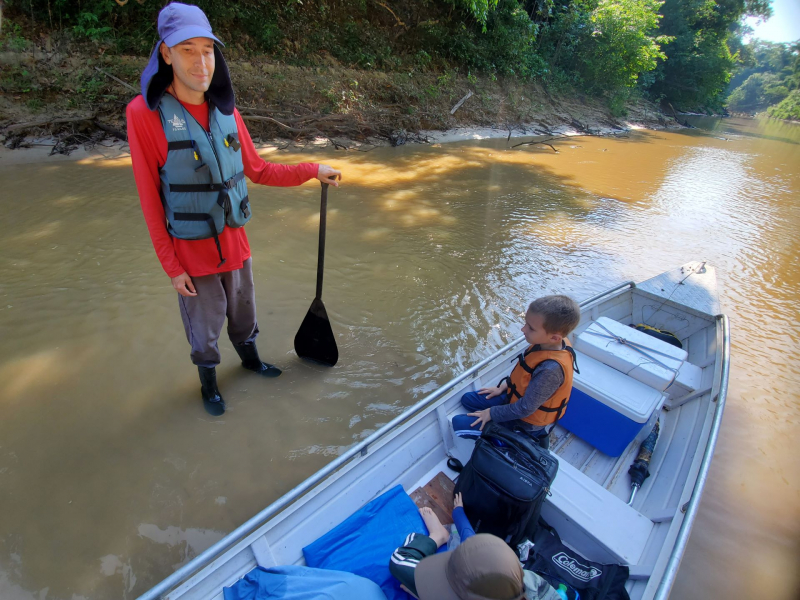 … and still be able to navigate the river? Brian and Rachel in Brazil faced that question as they came out of a remote village for a language analysis workshop.
Here's Brian, standing in the middle of the river at one point! "This is why we're looking forward to the new helicopter!" says Rachel.
In rainy season, the trip takes about three hours in a larger, faster boat. But in dry season, with the river at a low point, the trip takes seven and a half hours in this smaller, lighter boat. Three of those hours are on a little river where it's sometimes hard to find the deeper channel running through it. Several times on this trip, as pictured, they ran aground. This lighter boat, which uses a special propeller on a long pole, is also "more tippy, squishier, way louder and more uncomfortable" than the large boat, says Rachel.
In contrast, the helicopter takes 20 minutes!
For the next month, the river will continue to go down even further, so Brian and Rachel seriously wonder if there will be enough water in the river to return to the village after the conference. They may have to delay going back until the water is higher.
Logistics like these make work discouraging. It's hard to learn language and to have continuity in relationships when travel takes so long or is just not feasible. Would you petition God with us that the brand new helicopter, ready and waiting in Arizona, will soon be in service in Brazil? Some complicated paperwork is remaining before a specialized importation company will fly the aircraft from Arizona, taking care of all the international red tape along the way.
Once the helicopter is in Brazil, pray fervently that arrangements work out for an experienced pilot, Jeremiah, to travel there to orient Brazilian pilot Bruno to the routes and villages. You may recall that Bruno had just arrived to fly our former helicopter when it was destroyed in a freak windstorm. So, Bruno ended up not having any overlap time with Jeremiah to get "checked out" in that helicopter.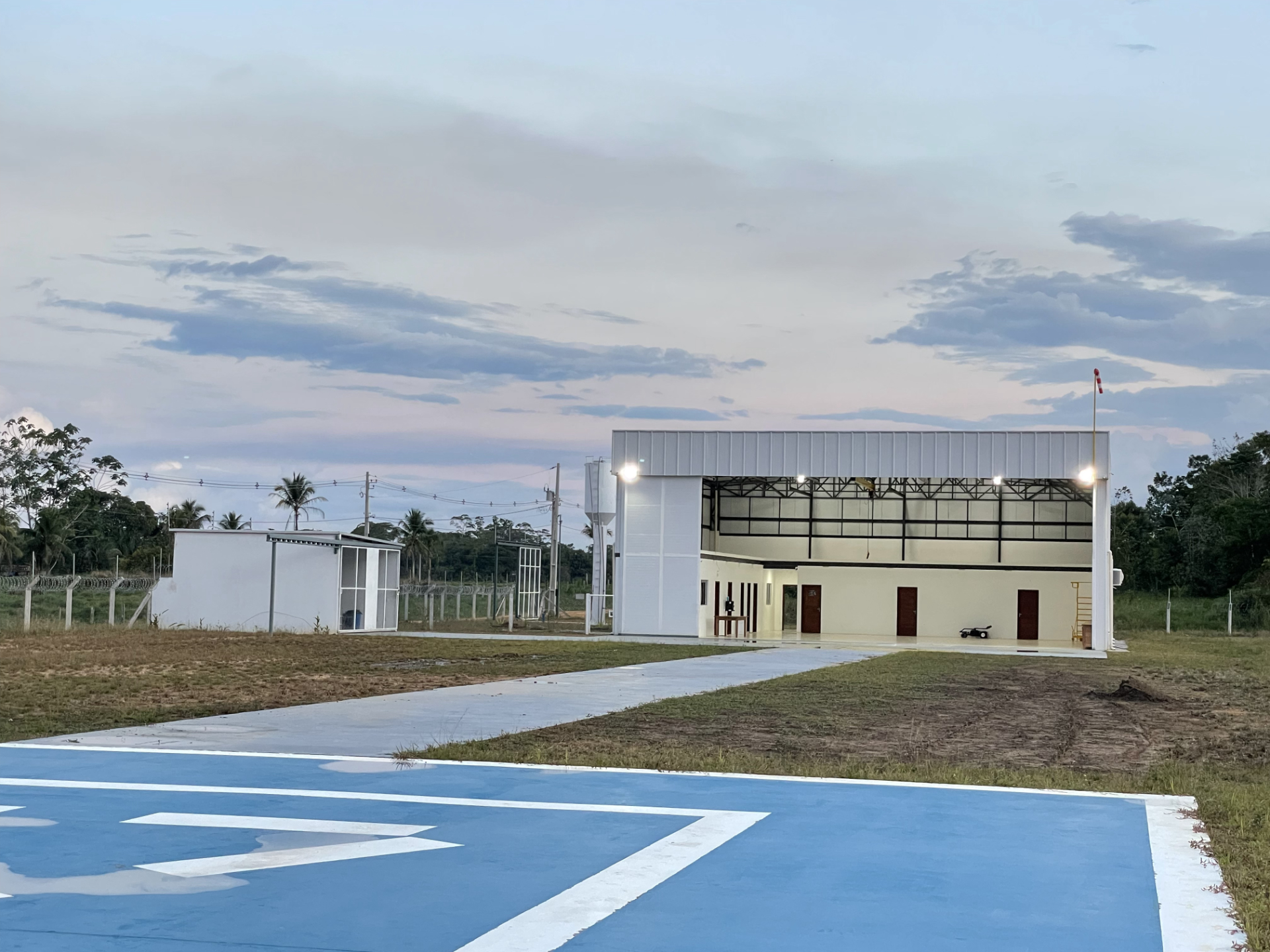 Fully assured that the new helicopter will soon arrive, the team in Brazil has built a beautiful and sturdy hangar that should easily withstand strong winds! Can't you just see that beautiful red and white R66 occupying the hangar?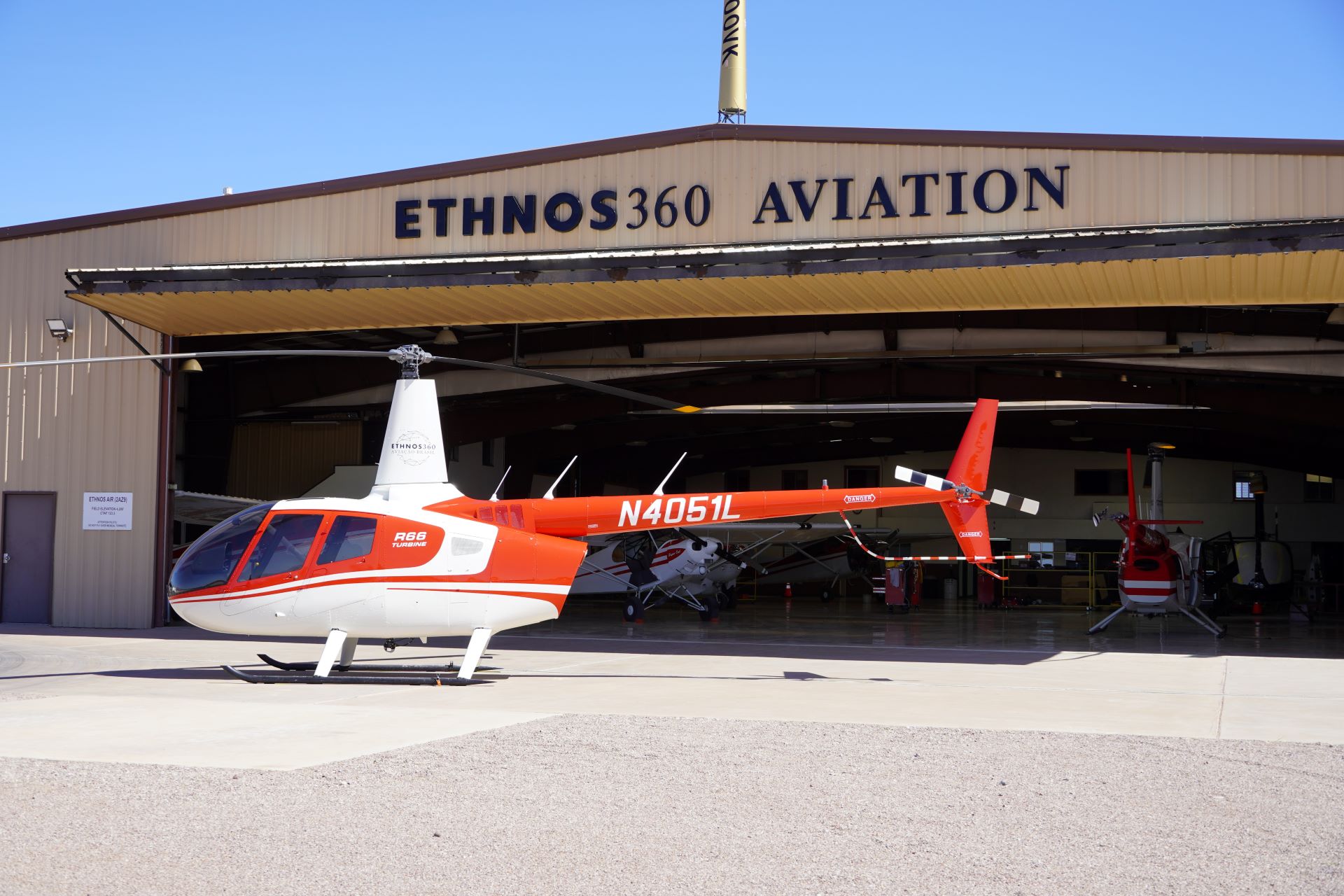 When you donate to Ethnos360 Aviation Missionary Flight Sponsorship, you have everything to do with this helicopter fulfilling its mission in Brazil. The helicopter is vital for outreach to be sustainable in this region of Brazil. But without sponsorship to make flights affordable, the helicopter would be a vain promise of help. Thanks for taking to heart the need for affordable aviation to sustain church planting teams until thriving groups of believers exist.