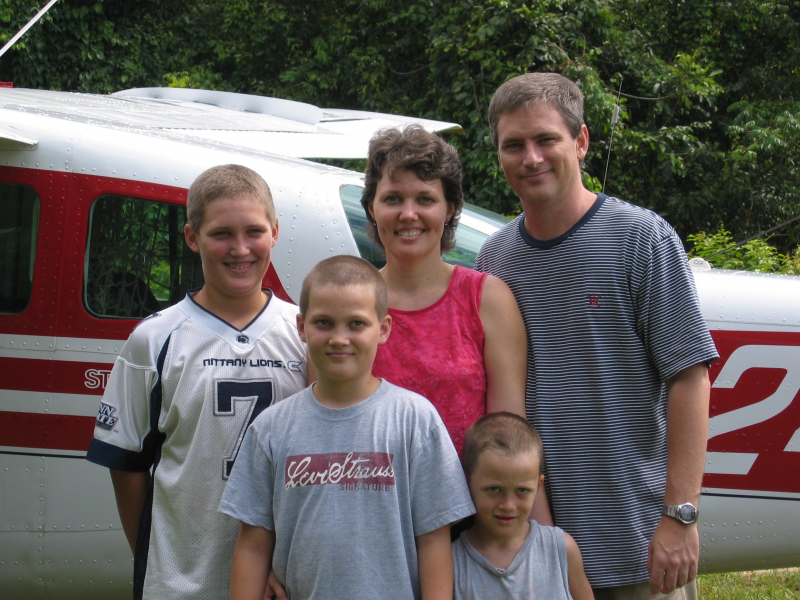 Steve and Sharon Sanford and their sons in 2005.
Sharon Sanford well knows the benefit of Ethnos360 Aviation. She and her husband and their three sons depended on it as they spent 1994 to 2006 bringing the Gospel to the remote Joti people group deep in the jungles of South America. "We experienced years of 'NTM Aviation' pilots being such a blessing to us. Over and over again, we thanked God. We couldn't have lived where we lived had it not been for them," she remembers.
Now, as a grandmother, aviation's benefits touch her heart in a different way – especially since her little grandkids live in remote areas of Papua New Guinea (PNG) and Asia-Pacific.
A Medevac to Remember
Recently, one granddaughter on the island of New Ireland, PNG, experienced odd symptoms and needed medical help. Her parents, Seth and Kaitlyn Sanford, were in the midst of teaching the Gospel lessons in a village of the Konomala people. It's so far from the mainland that Ethnos360 Aviation doesn't routinely fly there. But when the need arises, God provides. In Sharon's view, "This time, God just gave [the flights] as gifts!"
"Within 12 hours of my granddaughter's medical need, Ethnos360 Aviation had a plan. Pilots Brent Haberchak and Brad Richert spent their whole Saturday flying from Goroka all the way over to the middle of New Ireland Island – a three-hour flight," recalls Sharon. Meanwhile, Sanfords drove four hours to a town with an airstrip and met the plane there. A three-hour flight back to the mainland, and the Sanfords went straight to a mission guesthouse, with an appointment scheduled for the next day.
And then it hit! A 7.6 earthquake rocked PNG, delaying medical help for another day. Thankfully, the little girl's infection was easily treated. But at that point, there were no planes available to take the family back home. All the aircraft were on duty helping in the aftermath of the quake.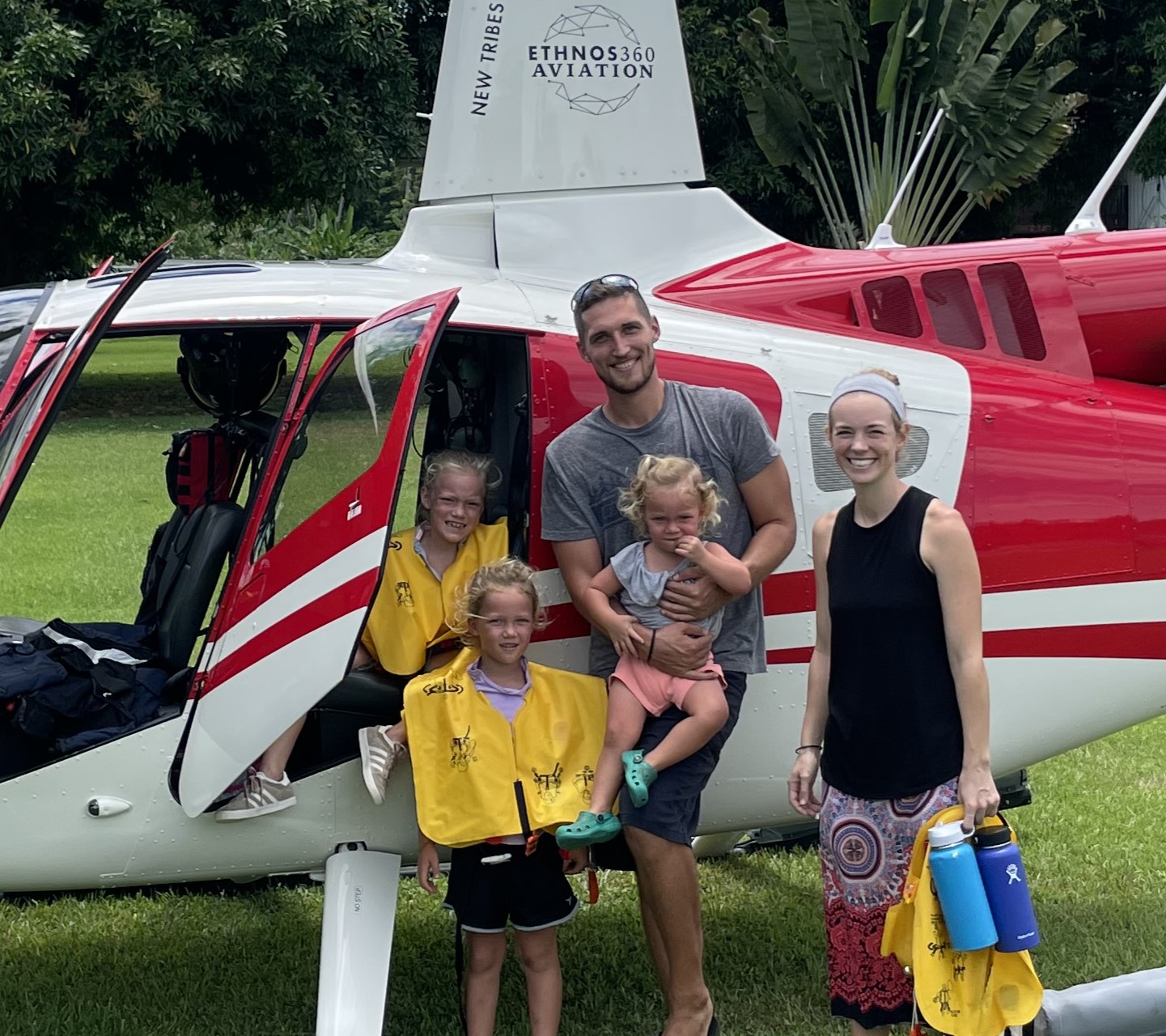 First landing of the R66 in the Konomala village!
A week later, the Sanfords managed to catch a commercial flight to a town on West New Britain, the island south of New Ireland. From that town, they could have taken expensive but unpredictable commercial flights, followed by a full day of land travel to get to Konomala. But by God's providential intervention, pilot Josh Verdonck was there doing some scheduled flights with the R66 helicopter. He had time available to help them. So, for the first time ever, the family helicoptered straight into their village on New Ireland – a mere two hours, compared to the two-day land trip they were expecting. "They were dropped off right in the soccer field of the village, about 100 yards from their house!" exclaimed Sharon. "It just felt like God was carrying them, like 'underneath are the everlasting arms.' I always think of the flights that God provides for missionaries as kind of like His wings underneath our kids."
A Journey to Remember
Another of Sharon's sons, Tyler, and his wife, Allegra, and family serve in Asia-Pacific, where they just finished their study of the national language. Part of their learning experience included traveling for a week-long visit to the remote Tugutil church, along with some national church leaders who were going to ordain elders and deacons among the believers. They made it as far as the neighboring island – a 30-minute flight away from the Tugutil's island. But excessive rain in the village made the airstrip too water-logged to land on. They went to plan B, as Sharon recounts: "A 36-hour boat and road trip with my two little granddaughters who are three and one! It was just a torturous trip, super-duper hard for them." The days were long, and both girls suffered the distressing effects of motion sickness.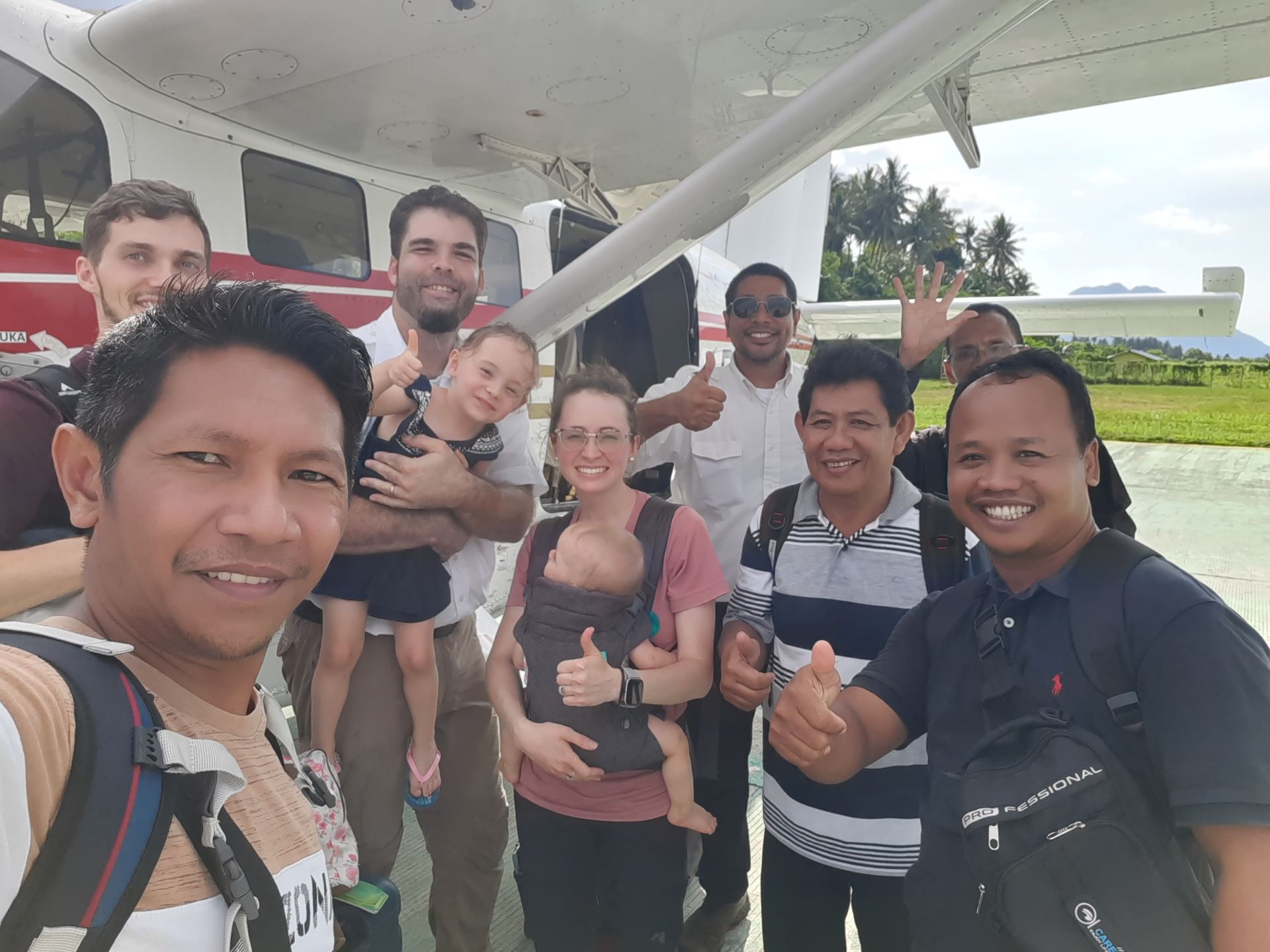 A happy three year old with her favorite pilot.
After a profitable visit among the Tugutil, the Sanfords started thinking about the trip back out. They sent prayer alerts to Sharon: "'Please pray that there won't be any rain for the next three days, because if there isn't, then the plane can come get us.'" So Sharon started praying: "I got a bunch of people praying – Lord, could you keep the rain away so that the plane can come get them, and they won't have to do that terrible 36-hour trip."
And God held off the rain! Pilot Jared Kresge, accompanied by pilot Nomad Nelman, landed the Kodiak on the dried-off airstrip to pick them all up. Sharon recalls: "My granddaughter who is three years old was immediately enamored with [Jared]. Later she told me on FaceTime, 'Grandma, grandpa, the pilot! He picked me up and he flew our airplane.' She was so excited about how nice he was to her." But that little girl couldn't have been as excited as her grandmother, knowing that her little granddaughters didn't have to make the grueling 36-hour journey again.
Mission aviation can seem like a matter-of-fact business, making sure people get where they need to go. That is, until it "hits home," and one of your own family depends on it. Can you feel Sharon's relief at knowing that reliable aviation serves her cherished grandkids as their families serve as church planters? It sustains them in the tough job of seeing thriving churches in the most unlikely places, just as it sustained Sharon and Steve the first time around. When you give to Missionary Flight Sponsorship, you have a part in making Ethnos360 Aviation flights affordable!