We did it! Well, God did it!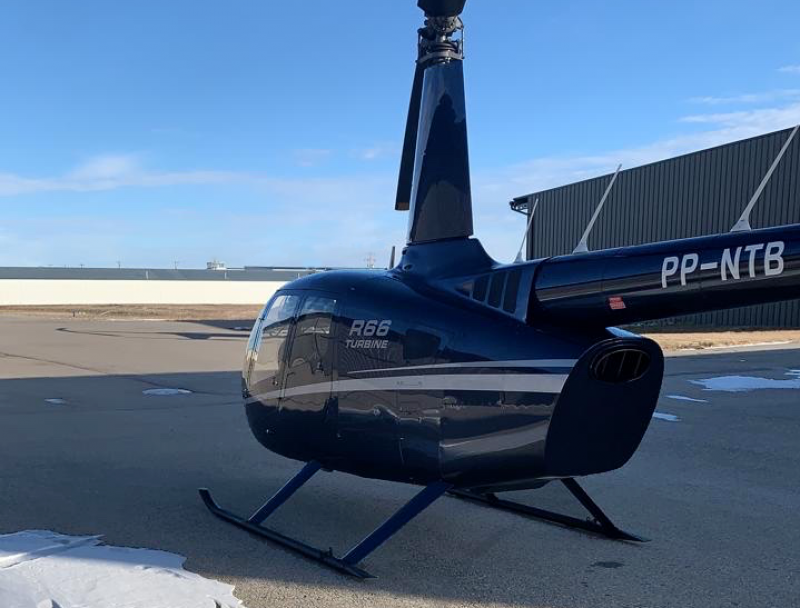 God provided an R66 helicopter for Brazil!
This very day, a specially-trained pilot has begun the ferry flight to deliver our new R66 to Brazil. PRAY for the journey of PP-NTB!
You waited so long for this news! Did you wonder if it would ever really happen? So did we! But God was working it all out, stretching our faith and patience in the process.
Thank you for letting God work through your constant prayers and your faithful, sacrificial generosity! He provided not only the R66 helicopter but also all the funds to get it into service in Brazil, build a hangar, and train a Brazilian pilot for the team. Praise the Lord, this project is fully funded! We can't say thank you enough.
Our pilot, Jeremiah Diedrich, already on location in Brazil, thanks you too! As soon as the remaining importation details in Brazil are complete, he will begin flying the helicopter to serve church planting teams in the Acre region on the fringes of the Amazon basin. He's looking forward to flying into twenty-plus villages to facilitate a scripture translation project – and that's just in one people group!
Church planting teams in other people groups are already strategizing how to use the helicopter for the coming years. Knowing that it will provide a reliable supply and transportation line, they can finally stay for extended periods in the village. And they can invite consultants to come and help them with difficult language, culture, and translation.
They'll feel safer too. "Of course, we trust our good and sovereign God to protect all of our teams in their work," says Jeremiah. "But coming from the perspective of this pilot, I will feel so much better when there is a helicopter here that I can jump in and go get them or take them what they need if (and when) problems arise."
This journey to having an R66 helicopter in Brazil has taken so much longer than we thought. But, as Jeremiah said, we trust our "good and sovereign God" for His perfect plan.
Please join us in thanking God for His wonderful provision to bring thriving churches to every people group in Acre, Brazil.