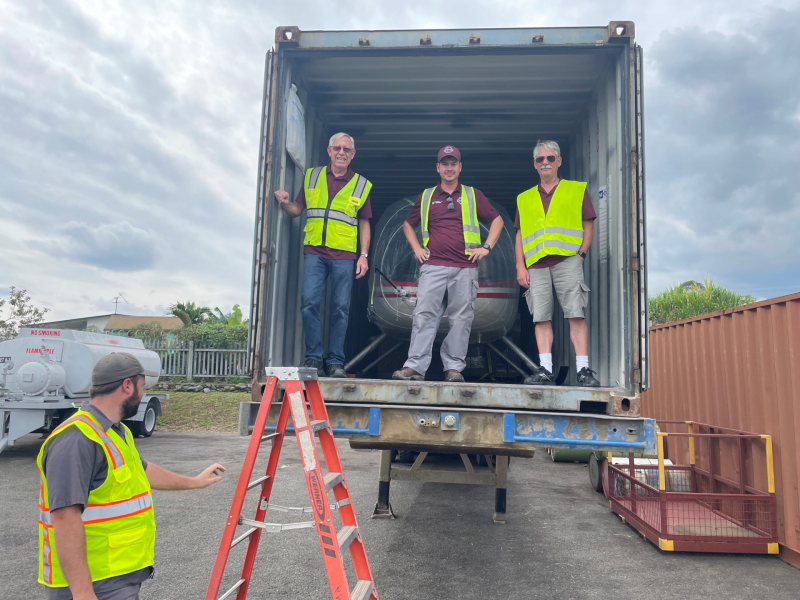 R66 #2 in PNG
It was like Christmas in Goroka, Papua New Guinea, as our aviation team received and unloaded the second R66. Many thanks to you who gave toward this helicopter and have been praying for its safe arrival.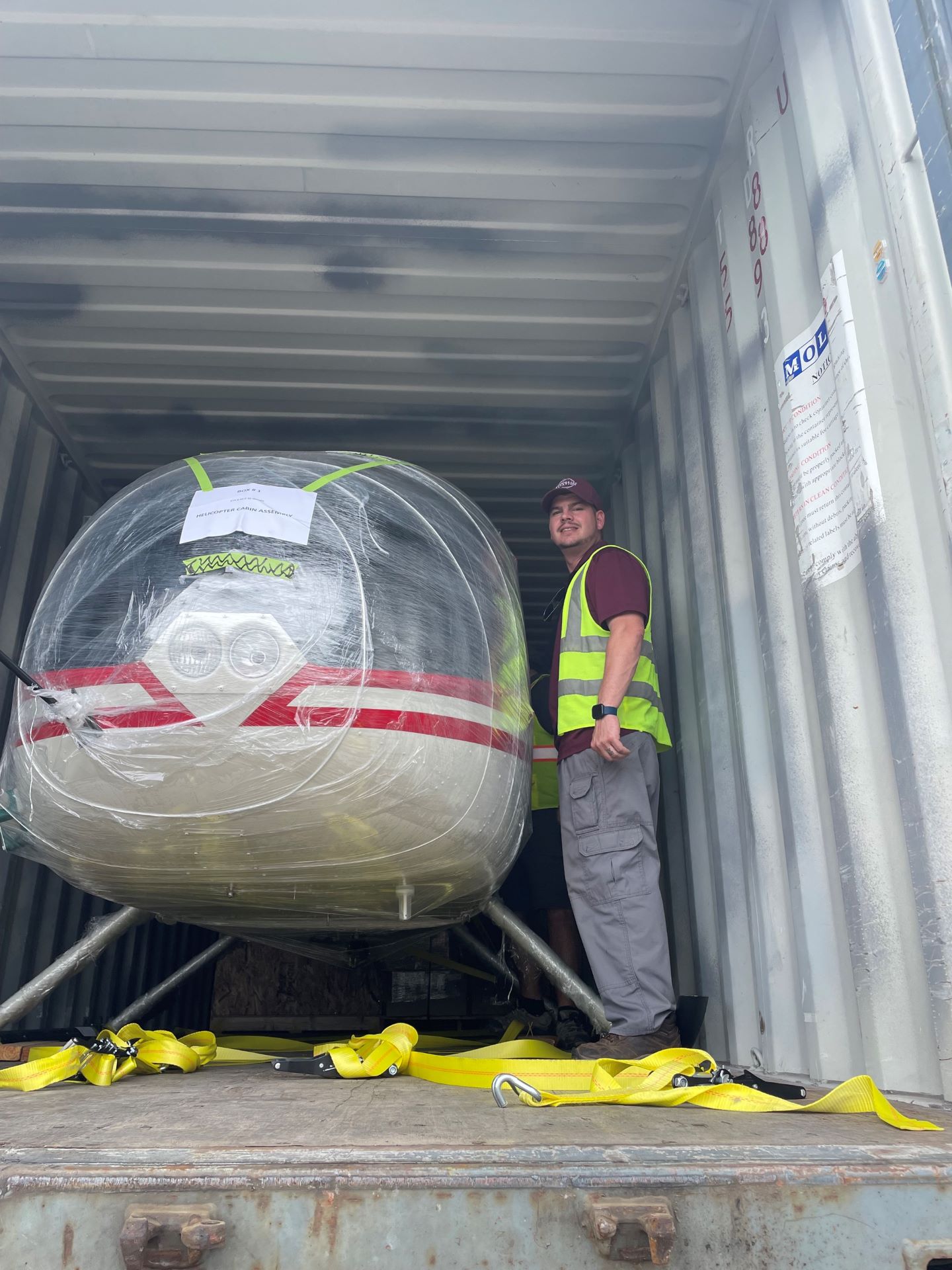 Fuselage Shrink-wrapped
But consider this: Have you ever ordered something from Amazon that was costly and fragile? You opened it with great anticipation but discovered that it was damaged in shipping? What a letdown! So it was with our team in PNG when they discovered that the two 10G shock sensors in the shipping container had tripped although the 25G shock sensors had not. This indicates that sometime during shipping, the 40-foot container was dropped. We don't know where or when this happened on the long journey, but we do know that the impact was between 10 and 25 Gs.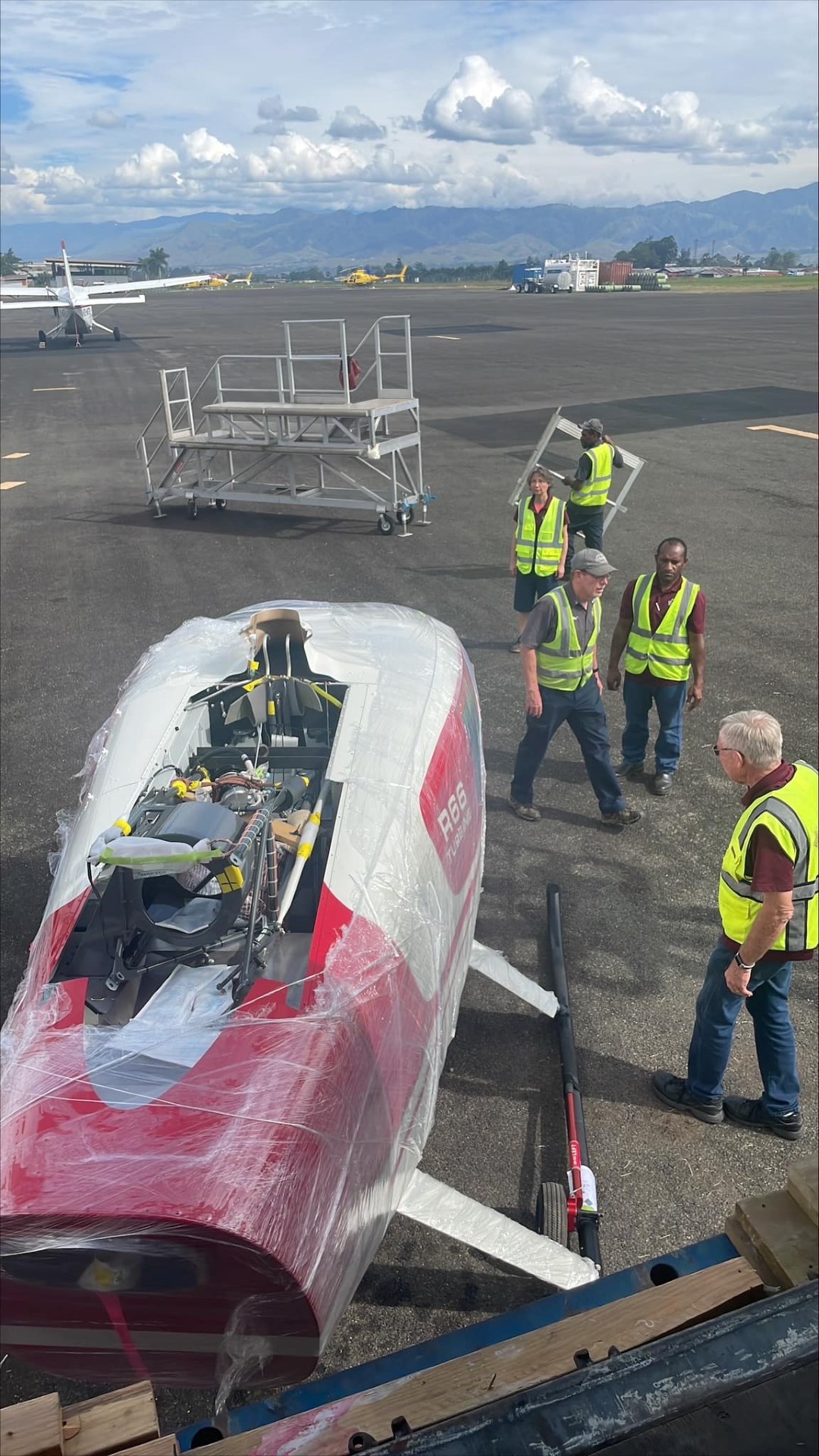 Out of the container
Whenever we ship these helicopters, we take great measures to assure they arrive safely. After disassembly, we wrap the fuselage in plastic and crate the major parts with foam padding for protection. Then the fuselage containing the engine is bolted down to the floor of the container so it cannot move. Pray that all these measures allowed the helicopter to survive the drop without damage.
In the hangar in PNG
Pray for our team as they work through all the testing procedures outlined by Robinson, the helicopter manufacturer, and Rolls-Royce, the engine manufacturer. Ask God to give the manufacturers wisdom as they give clear direction. Pray that if there is any damage, our PNG team will find it and be able to repair it. We want to do our best to avoid all risk to our pilots and the missionaries they fly.
We entrusted this helicopter into God's hands from the time it left our hangar on the semi-truck. Since in His sovereignty He has allowed this to happen, we can rest in Him. As we asked you to pray for a safe journey across the Pacific, we ask you to keep praying as we work to resolve these issues. Thank you!
P.S. Having more aircraft means we need more personnel to keep the aircraft flying. Would you be willing to join us in fervent prayer for laborers? If you would like to receive a weekly bulletin of requests and praises, send an email to media_aviation@ntm.org and ask to be on the "Ground Crew."