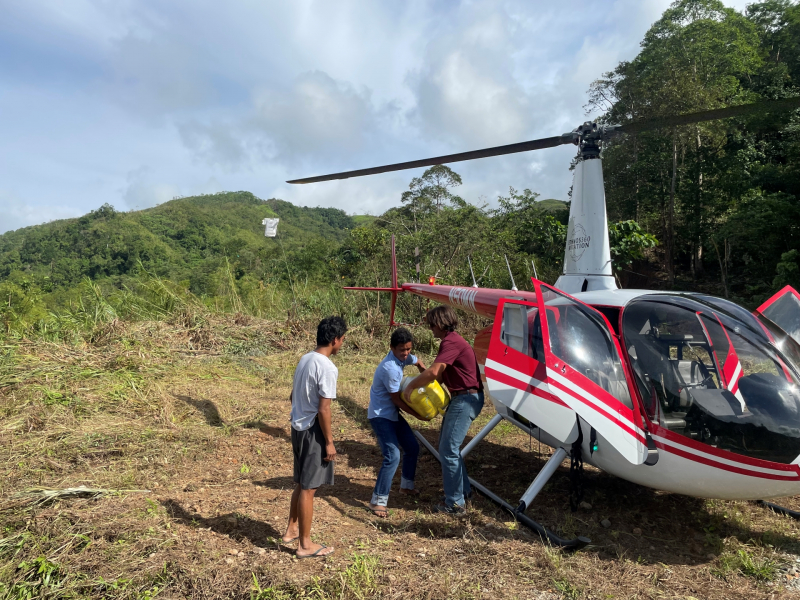 Alex Williams helps unload relief supplies.
Church planters Alex and Erin Williams knew they needed help: People were knocking at their door in a remote village of the Philippines asking for help to feed their families. Two days before, typhoon Egay had dumped 34 inches of rain in 36 hours!
"Rivers were raging, and landslides left villages unreachable," wrote Alex. Needs became apparent immediately. "Harvest was coming soon and the rice from last harvest was nearly or completely used up. With only enough money to get through the next week, stranded husbands unable to return home meant families couldn't buy their rice! News also began to spread of six missing people in Butao. … Friends were messaging to let [us] know that no one had arrived in Butao to search for the missing."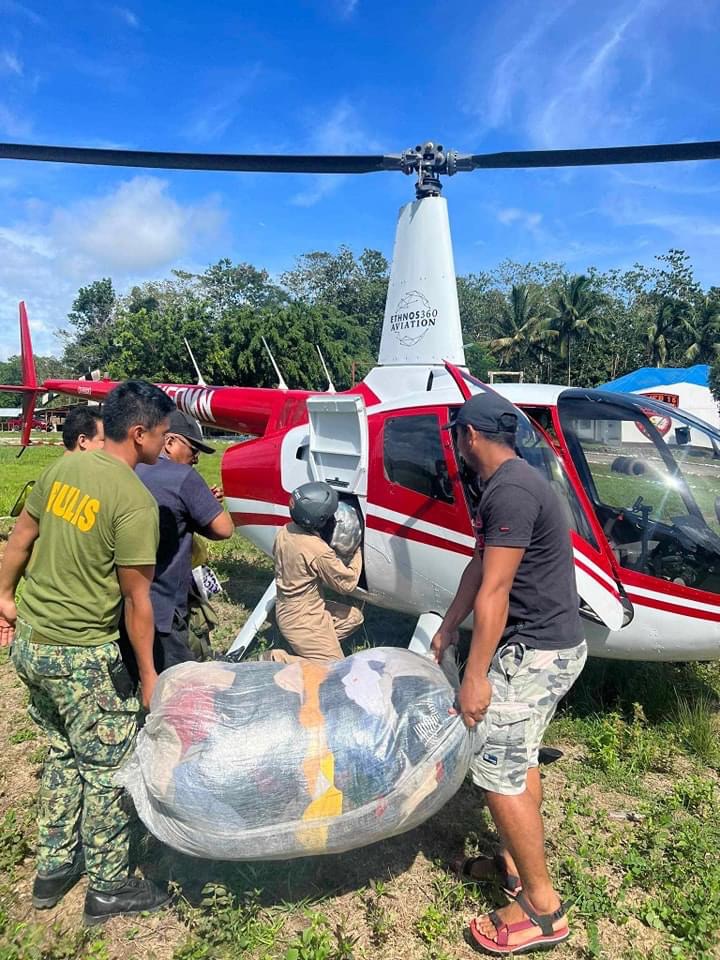 Ryan de Roos gets help loading the R66.
A veteran missionary from another organization had been through typhoons before. He immediately ordered 200 kilos of rice for hard-hit Tubongan. Alex heard of food relief available in another town. But relief would get nowhere without aviation. Dozens of landslides, impassible roads and destroyed bridges stood in the way of help. "That is where our assistance came in," wrote Ethnos360 Aviation pilot Brian Schaadt.
Government officials coordinated with our pilots to bridge the gap of transportation. Pilot Ryan de Roos, accompanied by Alex Williams, "flew to Tubongan Bible Church to deliver 200 kilos of rice, [then] hopped over the mountains on a five-minute flight to … retrieve [180] relief packs bound for Butao," relates Alex. "In contrast, first responders had been hiking for two days to reach Butao and had only made it two thirds of the way."
Alex continued: "These deliveries bring more than just a few days of food; they bring relief and reassurance that help is coming, that these people are not forgotten. After these initial deliveries, the mayor requested more flights to be done to deliver goods and personnel to the affected areas."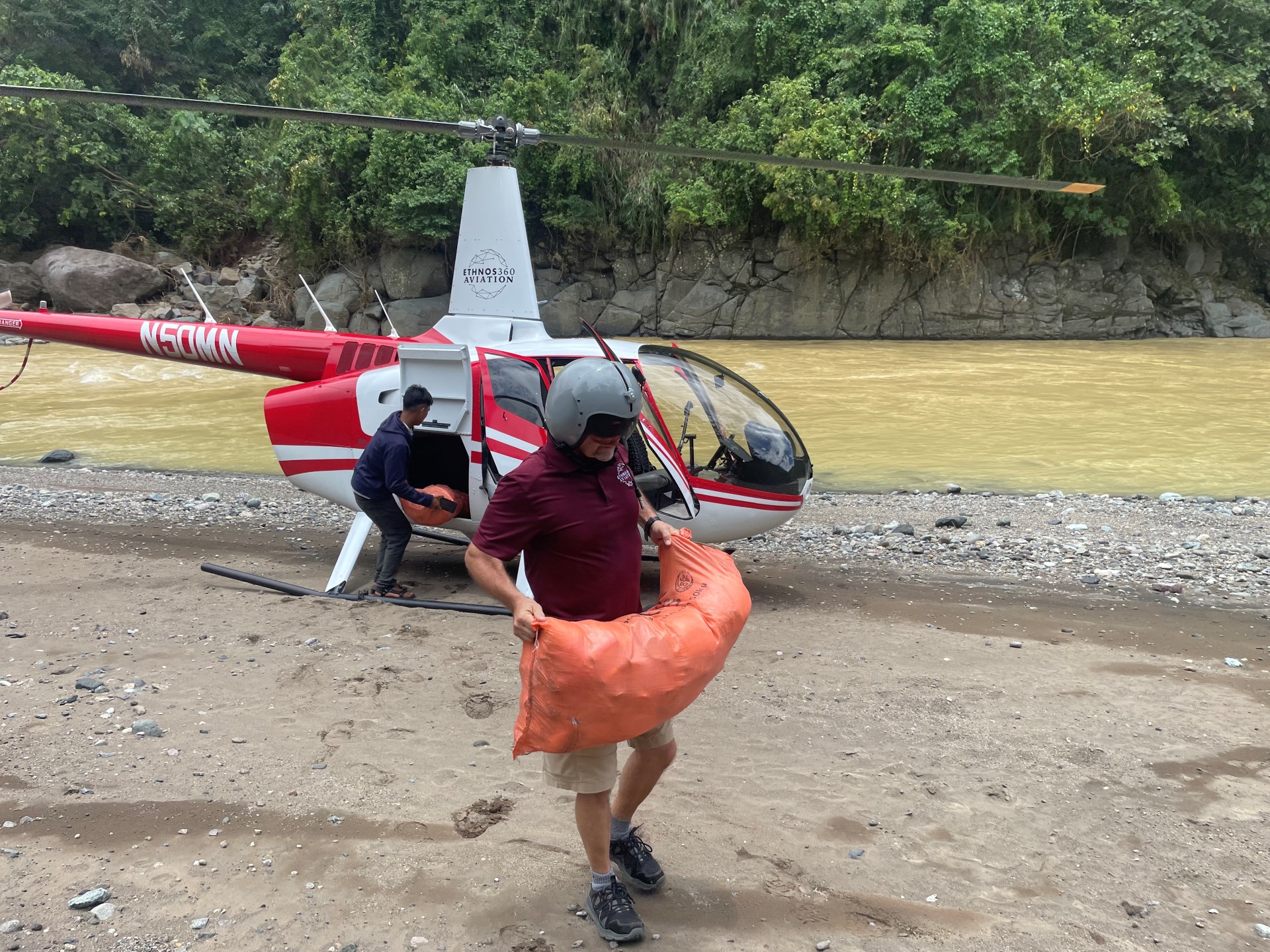 Brian Schaadt landed by a swollen river to bring supplies.
"The helicopter flew in food packets," recalls Brian, "taking off from the government center to various locations, and landing on everything from river gravel bars to school yards to roads to cement pads in the middle of town. It put our flying skills to the test for sure as well as maxed out the capabilities of our helicopter."
The government expressed gratefulness for the efforts of Ethnos360 Aviation and our personnel: "One particularly noteworthy incident that showcased their dedication was when they reached out to … six stranded families … in urgent need of assistance. … [T]he area had become inaccessible due to the high-level river water. With their expert assistance, family food packs were successfully delivered to the area, providing much-needed relief to those affected."
Though natural disasters are never welcome, Ethnos360 Aviation is always ready and willing to help in the name of the Lord. While government helicopters are busy delivering relief to other areas, our little R66 can reach into small and overlooked places. "It is great to be a part of something where people are helped immediately, and the love of God is shown so clearly. Our ability to help so quickly will be remembered," expressed Alex. Brian echoed that: "When they see God's people coming to help them in a much-needed way, we pray this leads them to give glory to God along with us."
The government put out a quite formal declaration of their gratitude: "The municipal government of Calanasan expressed its profound appreciation to the Ethnos360 Aviation Team for their exemplary humanitarianism and willingness to lend their air assets and expertise. Their efforts have been invaluable in facilitating relief operations and reaching remote and isolated communities in need."
Alex concluded, "Lord willing, it will be used to bring the people of [this area] to understand who God is and what He has done for them."
As you give to our Disaster Relief Emergency Fund, you are allowing us to be present, willing, and able to help when the need arises. Thank you!